With the arrival of warmer weather, there's nothing quite like a scoop of quality ice cream shared with family and friends.
In the heart of Hendricks County, Indiana, lies Danville Dips, offering friendly service, reasonable prices, a relaxed atmosphere, plenty of room to spread out and, of course, everyone's favorite frozen treat!
An added bonus is that Danville Dips has recently added new lunch and dinner options to their menu.
The Location & Owners 
Owner Kevin Hill longed for more unique dessert options for Danville. After discussing this desire with his wife, Susan, and friends, the idea of Danville Dips was born.
The Hills found the perfect location for friends and family to gather on the Hendricks County Courthouse Square. Situated on the southeast corner of the square at 101 S. Washington St., Danville Dips opened on Nov. 27, 2020, and instantly became a hit in the community.
The 3,400-square-foot store sits in a historic building that once was home to Baker Hardware in Danville. Kevin and Susan restored the brick walls and wooden floors inside the building, giving Danville Dips a cool blend of a modern ice cream shop in a historic setting. 
A Sweet Place to Gather 
With its spaciousness, Danville Dips has become a hangout for young and old alike. They have a large open area for customers to mingle.
They also offer many different seating options: booths near the ice cream counter, stools facing the huge floor-to-ceiling windows overlooking the activity on the Square and outdoor tables to soak up the sun.
Prior to opening Danville Dips, Kevin and Susan Hill enjoyed visiting a variety of ice cream shops to taste test their go-to ice cream brand. After a little deliberation, the Hills came back to Susan's tried-and-true love, Hershey's, which is a childhood favorite from her family vacations to the mountains of Tennessee.
Ice Cream Options 
Their large menu consists of 24 hard-dipped Hershey's ice cream flavors, soft serve, sundaes, dipsters (ice cream with a mix-in of choice), floats and sipsters (milkshakes). Dips also offers French vanilla frozen custard with eight flavor stripe options provided by Flavor Burst, based out of Danville.
Customers will also find smoothies and fountain drinks on the menu, as well as hot drinks in the colder months.
You can get your hard-dipped ice cream in a waffle cone, pint cup and quart cup up to three scoops tall. If you want soft serve ice cream, the sizes include kiddie-sized, small, medium and large.
As soon as we stepped in the front door of Danville Dips, my 9-year-old daughter, hurried to the counter to order a double scoop of Lil' Blue Panda and Strawberry in a waffle cone. The sweet treat was so huge that we were able to share.
While Lil' Blue Panda (sweet blue and white sugar cookie flavored ice cream twisted together with a blue cookie dough swirl and cream filled chocolate cookie) wouldn't have been my first choice, it has now become one of my favorites. I can't wait to get a scoop on our next visit.
For those with dietary restrictions, Danville Dips boasts some dairy-free ice cream options, such as Chocolate Chunk and Classic Cookie, and a few hard-dipped ice cream flavors that have no added sugar.
Food 
As the popularity of Danville Dips grew, Kevin Hill hoped to open the shop earlier in the day, so he came up with the idea of adding sandwiches and soups to the cold treat menu.
The Turkey Bacon Club sandwich has become a customer favorite. Grilled by request, this sandwich features honey roasted turkey, provolone, bacon, tomato and lettuce on a ciabatta roll topped with mayo.
For a classic deli sandwich with a twist, give the Ham and Goat Cheese option a try. Freshly sliced ham is piled high with goat cheese, red pepper bacon jam and spring mix on a ciabatta roll. Pastrami and Corned Beef, Corned Beef Reuben, BLT and Adult Grilled Cheese with tomatoes and bacon add to the meal-time options.
Served with chips and a pickle spear, the sandwiches are available in kid-sized, regular and double meat. An added bonus is that Danville Dips offers gluten-free bread.
In the colder months, Danville Dips adds a variety of gourmet soups to their menu. Customers can pair their sandwich with a cup, bowl or quart of their favorite soup. Since I love soup and a sandwich for a meal, I am a big fan of the half sandwich and soup option. This is a fantastic choice when you want to try a little of both.   
Giving Back 
What's more to love than a local, small business that supports its community? Susan Hill was born and raised in Danville, and Kevin joined her after they got married. The Hills have a love of the small town where they raised their children.
As a way to give back, they offer the option for local schools and groups to hold Dine To Donate fundraisers.
Last month, Danville Dips partnered with Wright Realtors to host the third annual Last Day of School Free Ice Cream Day. They closed the street down and added outdoor games to the mix, and the local library was in attendance. In just a few hours, the library was able to register more than 100 kids for their summer reading program.    
The large booths inside Dips are perfect for groups of six and for breaking out a board game or a deck of cards while you enjoy your ice cream or an item from their expanded menu. I also like the plentiful free parking around the shop and around the Courthouse Square, as well as the option for some outdoor seating.
There's just something about hand-scooped ice cream that makes it taste better. Combine that with the brick walls, wooden floors, huge picture windows, free Wi-Fi, new menu items and relaxed atmosphere, the whole vibe of Danville Dips is one of people coming together and making great memories.
Danville Dips
(317) 745-2233
Open 11:30 a.m. to 9:30 p.m. daily
Major credit cards accepted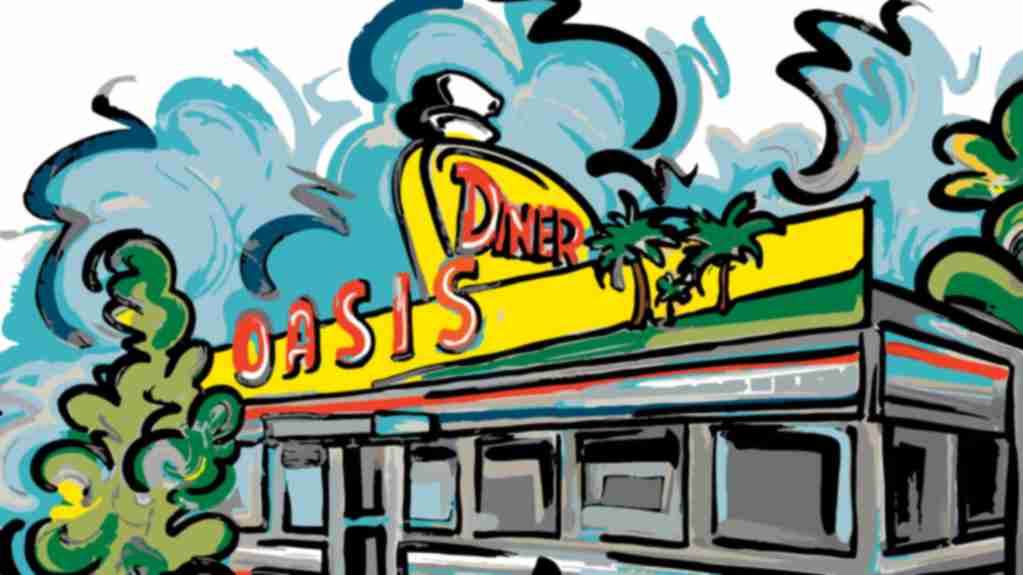 Free Visitor Guide!
Get your insider guide to all things Hendricks County by ordering a FREE Visitor Guide.