There's something about trains and the holidays. John Candy and Steve Martin try to get home for Thanksgiving in the
1987 movie
"Planes, Trains and Automobiles." A skeptical boy catches a ride on a train bound for the North Pole and learns that Santa Claus is real in
the book (and movie)
, "The Polar Express." A holiday icon is a toy train set under a Christmas tree. Trains and the holidays go together like holly and ivy.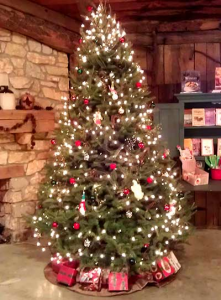 Hendricks County
, then, is a place you don't want to miss on 
Nov. 23
when two family events occur right down the road from each other and bring trains and Christmas together in
Danville, Ind.
Christmas at the Orchard
From 9 a.m. to 5 p.m. on that Saturday,
Beasley's Orchard
hosts its annual
Christmas at the Orchard
. Beasley's is a great place to find unique gifts for those on your Christmas list, as they make and sell all kinds of preserves, jams, jellies, pickles and seasonings. They have cookbooks, fruit baskets, baking mixes, cooking utensils and more. They'll even ship a gift box of fruit to your friends and family who are planes, trains and automobiles away. You can also stock up for your Christmas feast with 12 varieties of apples, freshly pressed apple cider, Amish cheeses, nuts, eggnog, baked goods, and the list goes on and on. You can even try some of their famous hot spiced cider while you're there.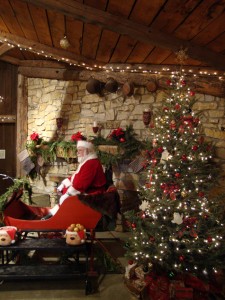 Christmas at the Orchard isn't just a shopping trip, though. Not even close. There will also be kids' activities, live music and arts and crafts. Tell the kids to bring their Christmas lists, too, because between 11 a.m. and 4 p.m., Santa Claus will be there! Every kid wants to meet Santa and tell him what they want for Christmas, right? (Santa, if you're reading this, some of that craft beer that Josh Duke
recently wrote about
would look darn good in my stocking!) You also have the option to have a professional photographer snap a family photo -- perfect for Christmas cards and letters! Christmas at the Orchard is a Hendricks County tradition, so make sure you circle Saturday, Nov. 23 on your calendar.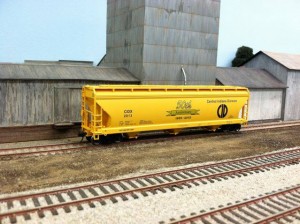 Central Indiana Train Show
Before or after you visit Christmas at the Orchard on the 23rd, head about a quarter-mile up the road to the Hendricks County 4-H Fairgrounds between 10 a.m. and 4 p.m. to check out the
Central Indiana Train Show
, hosted by the
Central Indiana Division of the National Model Railroad Association
. There will be oodles and oodles of train displays, operating layouts, door prizes, food and refreshments, books, railroad memorabilia, and there's even a kids' detail hunt. I'm just a train gawker -- I don't have anywhere near the patience required to make these fantastic machines look good and come to life -- but if you're a model train collector or enthusiast, there will be dealer tables there, too. Admission and parking is free, so it's a great way for kids and kids at heart to feel like they've died and gone to train heaven.
Hendricks County 4-H Fairgrounds
1900 E. Main St., Danville, IN  46122
Contact John Pancini at (317) 272-3796
Trains and the holidays: A perfect combination on
Nov. 23
in Hendricks County!