I believe that summertime in Indiana is meant to be enjoyed outdoors! Even though our kids are young, they love outdoor adventures. And if I can add a splash pad, swimming pool, water slides and a lazy river, then I can create some magical summer memories for our family.
Gill Family Aquatic Center in Danville offers all of that and more. It's located within Ellis Park and just off U.S. 36 in Danville. Ellis Park is one of our favorite parks to explore, so the kids were excited to check out the waterpark area for the first time.
Even though Gill Family Aquatic Center is not the newest water park in Hendricks County, it is a great community water park that offers a variety of features for all ages and a few special perks that don't seem to be as well known or offered at other water parks in the area. 
The first time we checked out this park, I went solo with our three young kids. We got there at the official opening of 11 a.m. but it seemed to already have a buzz of adults and kids enjoying the water.
It wasn't overly crowded but I felt like I needed to get my bearings straight to figure out our game plan. A fellow parent had claimed some lounge chairs and offered me one, explaining that she's here all the time with her older kids and purposely holds chairs for families with small kids. Already a win in my book with the automatic kindness and immediate community!
I also learned that members can access the park earlier on days when there aren't swim lessons. This is a nice membership perk.
Splash Pad
I love that Gill Family Aquatic Center has something for everyone. Our youngest is just over a year old and loved the splash pad area.
It was easy for him to get around and play and even our 3-year-old and 5-year-old enjoyed coming over to play in the water with their baby brother. It has a variety of spray and splash features, and it never felt crowded. 
It's also the only water feature that's a little bit separated from the rest of the water, which makes it easier to contain little adventurers.
Play Feature and Lazy River
The zero-depth entry allows for a smooth transition into the play feature area for young kids. It's like a bigger kid splash pad and great for those in between years -- too big for a regular splash pad, but not big enough for the big slides.
There's a small water slide, ropes to swing from and lots of water spraying from all over. There's a gear kids can turn to make the water spray out more or less. It also has small water bubbling up near the entrance. 
Around the corner from the play feature is a small lazy river. I appreciated the design on how all of the areas are connected and allow for continuous water play. I loved lazy rivers when I was a kid so it was fun to see how our kids enjoyed it and just float along.
The lazy river winds around and offers two smaller pool-like areas off the main path. When we made it a family date, this area was a fun place to play. It was like our own little mini pool for a few minutes. And our oldest two kids loved that there was a seat/landing area where they could stand up in the water and jump in.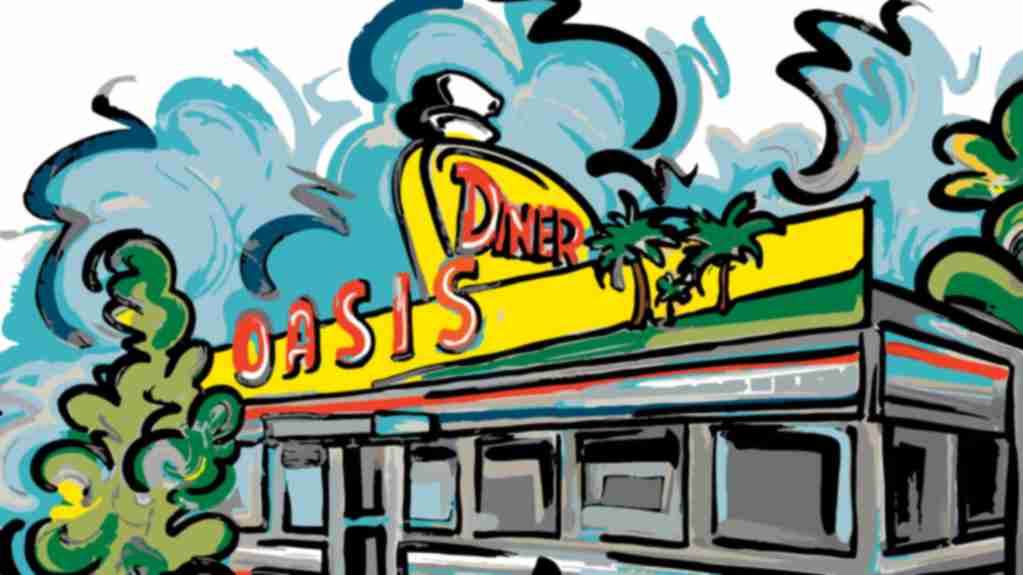 Free Visitor Guide!
Get your insider guide to all things Hendricks County by ordering a FREE Visitor Guide.
Water Slides and Diving Board 
Gill offers two 120-foot water slides – one enclosed tube and one completely open. Our oldest is 5 years old and didn't meet the 48-inch height requirement, but we enjoyed watching kids and adults alike slide down and make a splash!
The smaller play feature for younger kids also has a small twisty slide. And while obviously not as large as the bigger slides, our 5 year old went home raving about it.
Another feature that stands out at Gill Family Aquatic Center is the diving board. Not all of the water parks in Hendricks County offer a diving board.
I also like how the pool area transitions from 3 1/2 feet to 12 feet near the diving board. It was fun to watch the older kids and a few adults dive in.
The Extra Details
I also love Gill's twilight pass. It allows you access to the park from 4-7 p.m. for a discounted entrance fee. We did this as a whole family late one afternoon, and I actually enjoyed it so much better.
We found fewer people at that time, and the sun was slowly getting lower so it didn't seem as hot. It was also just the right amount of time for us to enjoy all of the areas.
Lounge chairs surround the majority of the pool but you can bring in your own beach chairs if you prefer. There are also large umbrellas throughout the center to offer shade. Lifeguards are also positioned throughout the center. 
A concession stand along with picnic tables overlook the entire pool. The menu includes slushies, popsicles, ice cream novelties, chips, candy and a few hot food items (pretzels, pizza, nachos, etc.). Prices are reasonable and the staff is friendly and helpful. You're also allowed to bring your own cooler if you prefer.
The bathroom and shower area is large and allows space to get ready. We brought our stroller and easily made our way through to the other side. There is also a changing table on the women's side.
Cost and Hours
​A daily pass costs $5 for Danville residents and $7 for non-residents. Ages 3 and under get in for free! You can also leave and come back if you need to. Just stop by the front desk on your way out.
The Twilight passes are good from 4-7 p.m., and only cost $3 ($3.50 for non residents). Memberships are also available.
Gill Family Aquatic Center is open seven days a week,11 a.m.-7 p.m. Monday-Saturday and noon-7 p.m. on Sundays. Pool rental options are available after normal hours on Friday, Saturday and Sunday.
Bring the whole family or meet up with friends for a whole day of water fun! Or enjoy the smaller crowds during late afternoon and grab a twilight pass.
If you have some extra time before or after enjoying Gill Family Aquatic Center, the park is only minutes from Danville's historic downtown, which is a must see in Hendricks County as well!