Fingers touching. Reese's Pieces. "Phone home." A boy on a bicycle in the air with the full moon as the backdrop. All of these iconic sights and sounds instantly flash many of us back 30 years to "E.T. the Extra-Terrestrial."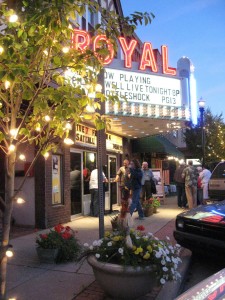 On
Thursday, Dec. 27 at 7 p.m.
-- thanks to the
Kiwanis Club of Danville
,
Hackleman Auto Collision Repair
, and the
Royal Theater
-- "E.T. the Extra-Terrestrial" is coming to
Hendricks County
for Kiwanis Klassic Family Movie Night in a beautiful historic theater in Danville, Indiana. The 115-minute, 1982 film directed by Steven Spielberg and featuring a very young Drew Barrymore in the role of Gertie is rated PG. Tickets should be purchased at the Royal Theater, 59 S. Washington St., on the east side of the Hendricks County Courthouse Square in Danville. Admission is $3 an adult and $1 for a child, making it an inexpensive evening of family entertainment that brings a classic family movie to a new generation. All proceeds from the event go right back into the community in the form of a multitude of
youth-oriented projects
undertaken by the Kiwanis Club of Danville including scholarships for Danville High School seniors, the annual Easter Egg Hunt at Ellis Park, the annual Daddy/Daughter Dance, and donations to a wide variety of local organizations such as Sheltering Wings, Susie's Place, the
Danville Girls Softball Association
 and many more.
The idea for this new event came from Kiwanis member Jennifer McNabb, owner/operator of
JLM Travel
in
Danville
. A fan of classic movies and music, McNabb wanted to do something that would allow her to share her love of the classics with a new generation that includes her grandchildren. The club envisions "E.T." as the first in an ongoing series of Kiwanis Klassic Family Movie Nights throughout the year. And what better location for a classic family movie night than the classic Royal Theater in Danville? Serving the community since 1914, the Royal Theater is locally-owned by Lee Comer and operated by Tracie Shearer. "It's truly a labor of love," said Shearer, who operates the theater in her free time in addition to working a full-time job. That labor of love has provided patrons with inexpensive family activities, a cozy atmosphere and friendly service for the past decade or so in the form of movies, live music, tours for youth groups and a variety of benefits to the community. The outstanding small-town theater experience has drawn me and my family to the Royal countless times over the years.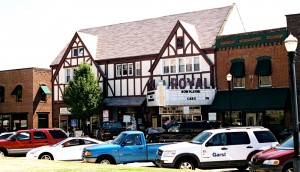 In January, live comedy will be coming to the Royal, and as I learned from Shearer, it's more than just another great event in Hendricks County. It's also the first step in raising money for a very expensive switch from 35mm film to a digital format that the Royal is forced to make in 2013 to continue showing movies -- a topic we'll discuss more in-depth here in January. In the meantime, make sure you phone home to mark your calendars for 7 p.m. Dec. 27  for Kiwanis Klassic Family Movie Night at the Royal Theater and bring the whole family to Hendricks County for an enjoyable extra-terrestrial experience.