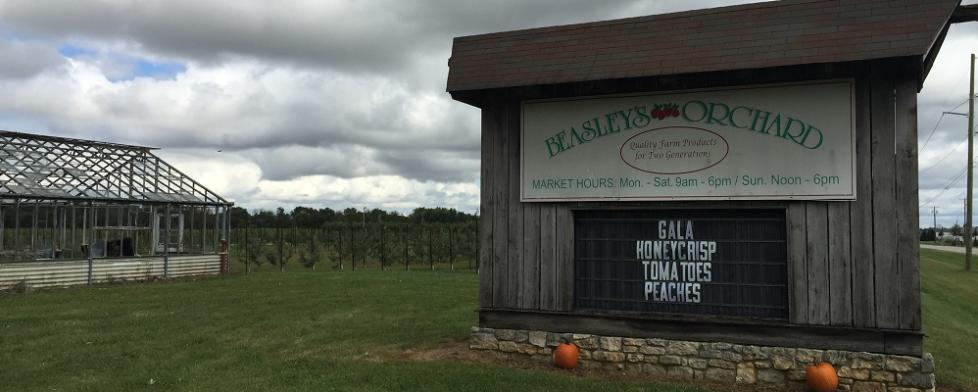 Beasley's Orchard is a Hendricks County go-to destination - especially in the fall. This farm is so much more than an apple orchard. It's a local gem that's rich with history.
I stopped by the Danville orchard, which is located at 2304 E. Main St., Danville, to grab some honeycrisp apples before the crowds pick up with the Heartland Apple Festival approaching. In case you haven't heard, these apples are a hot commodity.
The market had a steady stream of customers taking in the interior of the barn and all the offerings within it. I've visited the market countless times, and I still find myself enamored by the whole experience.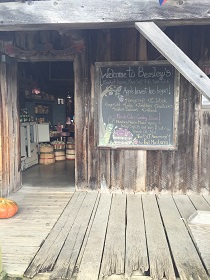 Milton and Irene Beasley bought the farm in 1946, where they raised livestock and grain. They also kept a modest garden and apple orchard. A year of abundant produce changed everything. They loaded up their son John's little red wagon and made their first roadside sale on U.S. 36.
Today, Beasley's produces and sells: apples, tomatoes, squash, sweet corn, green beans, cucumbers, peppers, eggplant, cantaloupe, watermelon and pumpkins.
Years ago, my aunt called and asked that I stop by Beasley's to pick up 25 ears of corn for a family gathering. Unfamiliar with the orchard, I was a little confused as to why I needed to make another stop just for corn. After one bite, I understood.
This, friends, is how generation after generation comes to know about the awesomeness that is Beasley's Orchard.
The barn, built shortly after the Civil War, currently houses the apple production, the cider mill and the retail market, which includes many other local products besides the farm's produce.
I spoke to Milton and Irene's grandson, Calvin Beasley, a recent college graduate that is hoping to carry on and grow the family business. He's helping to capitalize on current trends in the market and better utilize their facilities.
He said that Beasley's has become a popular destination because it's established, rich with history and still remains an operational farm that offers fun for the whole family. 
Calvin also told me that he is focused on continuing to educate young people about where their food comes from. The farm is a perfect place to do that as I found out when I joined my daughter's preschool class on a field trip to Beasley's. We picked apples, learned about the mill, and took a thousand pictures in a sea of pumpkins. I've chaperoned many great field trips, but this was one of my all-time favorites.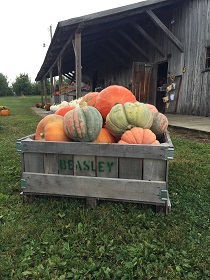 For more information about booking a field trip or group outing, click here or call (317) 563-1487.
If you haven't been out to the orchard yourself, now is the best time to visit. Pumpkins adorn the front porch of the barn, bushel upon bushel of every kind of apple fill the market, and the open space of the farm provides a perfect fall setting.
Every weekend in October the orchard offers hayrides out to the patch where you can pick your perfect pumpkin. The corn maze will be open from 10 a.m. - 5 p.m. Fridays and Saturdays and noon-5 p.m. on Sundays beginning this weekend through Oct. 31. 
Beasley's Orchard hosts the very popular Heartland Apple Festival the first two weekends of October. Folks at the farm are busy making final preparations to make this year's event even better than the last. This year's corn maze will pay tribute to the 50th Anniversary of the Ford Mustang with its "Mustang Muscle" theme. 
Look for more details about the Heartland Apple Festival coming later this week on the Hendricks County Insider blog.
Until then, stop by the market at Beasley's and pick up a bushel of honeycrisp before it's too late.