Editor's Note: Hurricane Grill & Wings has unfortunately closed. However, a new restaurant will move into the building. Scotty's Brewhouse is scheduled to open at that site in March 2014.
I love wings, and the fresher and meatier they are the better. As a result, my new favorite place in Brownsburg, Indiana, is
Hurricane Grill & Wings
.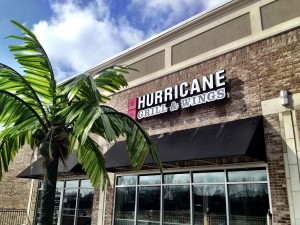 This locally owned restaurant has been around since June 2011 at 251 W. Northfield Drive in a strip mall across from the Brownsburg Walmart, but I was surprised to find out how many of my local friends have never been there. Believe me, whether you're a visitor or a
Hendricks County
local, wing eater or not, you must try this place! In fact, it is the only Hurricane Grill & Wings in the state or the Midwest for that matter. Hurricane has a large menu filled with burgers, wraps, Phillies, salads, seafood and so much more that there literally is something for everyone.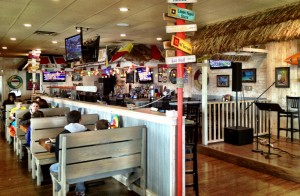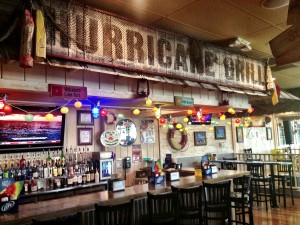 On my most recent visit, my whole family joined me including my wife, son, my parents from Illinois and even my grandmother. The restaurant is smoke free, so it is a great place for a family to hang out; it has a great bar for a group of guys to watch the big game; or it even provides a nice, romantic Caribbean setting for a couple. As you walk into this restaurant, my mother referred to it as an island escape, which is a perfect description. Whitewashed board walls, thatch roofs, surfboards on the walls and even a surfboard made into a table definitely gives this oasis a Key West vibe. Owner Richard Sutton brought the franchise to Indiana from Florida after visiting a Hurricane Grill & Wings in West Palm Beach. Not a big wing eater himself, Sutton told me the concept and atmosphere drew him in, and the delicious, affordable food sealed the deal. "I just thought it would be cool to have something like this in Brownsburg for those who can't go on vacation," he said. "I figured I could bring it to them." Sutton definitely brought it as I've have eaten at this tropical hangout numerous times and have yet to have a bad experience. From the atmosphere to the service to the food, Hurricane truly has it all.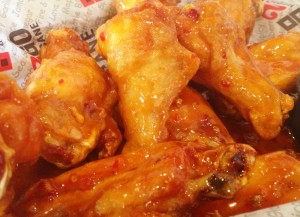 I typically order their traditional bone-in, jumbo wings. Jumbo is the key word as these wings seem to have double the meat of most wing places including a nearby chain. Sutton said their wings also are never frozen as they arrive at the restaurant fresh and stay that way until they are cooked. Hurricane boasts 34 sauces, which was a little overwhelming for me at first, but the wait staff is very accommodating about answering questions and even bringing out samples of any sauce you would like to try. My first few visits, I think my family sampled nearly half of the sauces until I zeroed in on my favorite, Sweet Red Chili. Sutton said my favorite is also one of the most popular along with Firecracker, Honey BBQ, Boss Sauce, Cyclone and Hurricane's Garlic & Parmesan. They break the sauces into different "Categories" on the
menu
based upon their heat level. Don't let that scare you away from trying some of the "hotter" ones. Sweet Red Chili is listed among the hottest, but it really isn't too spicy compared to some I've tried at other wing places. As for their other foods, my wife loves their Mahi-Mahi Philly. Sutton said the Phillies have become a staple for the restaurant, which he never expected when they first opened.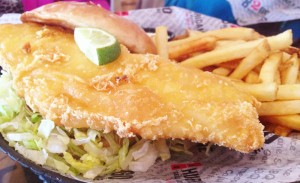 My dad has tried their burgers and jumbo shrimp platter and enjoyed both. My mother and grandmother shared a fish sandwich during our most recent visit, and it is a good thing they shared it, because this sandwich was massive – definitely enough for two. The best part is no matter what you order the prices are affordable, especially considering the portions you receive. One last thing I have to say about the food before moving on is you must try their garlic parmesan fries appetizer. It is unbelievable! Seldom, I am able to eat fries without ketchup or some kind of sauce, but this is one of those occasions. As for atmosphere, in addition to the Key West theme, Hurricane Grill & Wings has plenty of TVs with sports, a must for me at any wings place especially as we head into NCAA March Madness time. The restaurant even has outdoor patio seating once the warmer weather arrives. Sutton also books live music from 7-9 p.m. every Thursday night, some Friday nights and from 6:30-9:30 p.m. most Saturday nights. Jimmy Ryser has performed and is planning to come back soon. Sutton also is in final negotiations with John Mellencamp's drummer to perform there in the next two months. Keep watching their
Facebook page
for upcoming performances and to receive discounts and coupons. Your tropical oasis awaits in Brownsburg. Give it a try today!