The next time you find yourself rushing from one obligation to another, with a jam-packed schedule that leaves little room for relaxation, stop. Take a breath. And grab a friend — or a few — and enjoy
a proper afternoon tea
. You can now do exactly that at Danville's
Court House Grounds
on Thursday, Friday, and Saturday afternoons.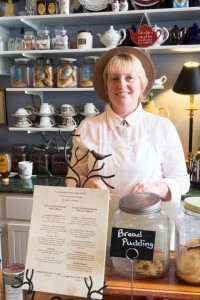 Tina's Traditional Old English Kitchen
Owner Tina Jesson believes (and I wholeheartedly agree) that Americans would greatly benefit from adopting the English afternoon-tea tradition. It gives us a reason to peel our gazes away from our screens and enjoy not just the company of others, but the benefits of a healthy cup of tea. Originally from Derbyshire, England, Tina long dreamt of opening her own tearoom. Her dream is now a mobile reality, as she hosts afternoon tearooms in several locations and offers tea-party catering. I'm a lover of all things English, but I've never partaken in a proper afternoon tea, so I jumped at the chance to experience this for myself. My mom and I stopped in one Saturday afternoon, and by the end of our tea, we were both making lists of whom we should bring to tea next!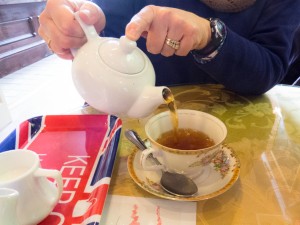 High tea, crumpets, and Devonshire Cream
Tina greeted us personally and introduced us to the afternoon's menu. For the full experience, you can choose the formal afternoon high tea, which includes a three-tiered selection of sandwiches, scones, and pastries, plus your pot of tea. You can also choose lighter fare or a more hearty meal.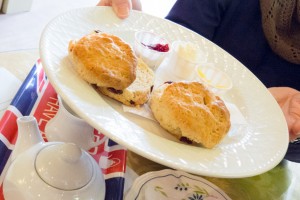 I chose the Tea and Crumpets, and my mom had the Devonshire Cream Tea, which included fresh scones and true clotted cream. All of Tina's teas are specially blended, loose-leaf teas, and she makes all of the food herself — including the preserves — using recipes handed down from her grandmother. In Court House Grounds on the Square in Danville with classical music playing softly in the background, you'll be hard pressed to find a more authentic experience.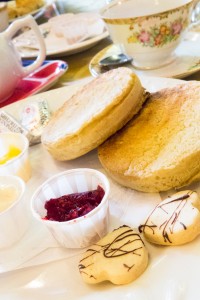 As Tina says, the experience with her
Traditional Old English Kitchen
is a true "taste of Britain on the plate," and Mom and I are still talking about how much we enjoyed ourselves. I can't wait to go back! You can enjoy the experience yourself each Thursday, Friday, and Saturday:
Tina's Traditional Old English Kitchen
Court House Grounds, Danville Each Thursday, Friday, and Saturday 2-4 p.m. Tina also offers English lunch specials at Court House Grounds on Fridays and Saturdays.