I've been in a holiday mood for the past couple weeks. The holiday decorations are out and on display, and I can't stop playing holiday music and singing along.

For those of you like me, there's a parade coming up that you don't want to miss. It's the annual
Christmas Under the Stars Parade & Light Show
in
Brownsburg
. What's even better than a daytime parade? An evening parade with plenty of lights and merriment! This fun, local favorite will have 45 floats this year. The floats will be decked out in lights and holiday decor. Parade goers line Main Street, so I would suggest showing up early, dressing warm and bringing a few chairs to ensure you get a good view of the parade.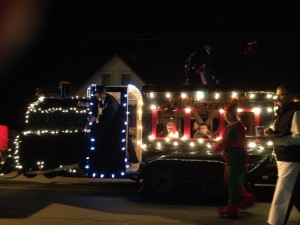 There will even be a few famous Christmas folks on the parade route: Santa, Mrs. Claus and the elves. Don't forget to stop by Town Hall after the parade for entertainment, photos with Santa and to see the Junior Grand Marshal turn the lights on at the Town Hall Christmas tree! (The outside of Town Hall will be decorated in lights also.) Hey you shutterbugs out there (like me). Here's an idea: Take photos of your favorite floats and send them to your friends and tweet them to us
@HendricksCounty
or send them to us on our
Facebook page
. I'm looking forward to Christmas Under the Stars and in case it's a cold evening, I plan to bundle up and bring a thermos of hot cocoa that I can share with family and friends.
All you need to know:
What:
Christmas Under the Stars Parade & Light Show
When:
6 p.m., Dec. 7
Where:
The parade route starts at Brown Elementary School and ends at Arbuckle Acres Park. Here's a handy map of the parade route.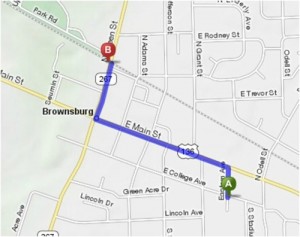 Cost:
Free to all ages!
Entertainment:
Immediately following the parade,  guests are invited back to Town Hall to enjoy food and listen to the Delaware Trail 4th & 5th Grade choirs sing. After the performance, the Junior Grand Marshal will light the Christmas tree on Town Hall Lawn.
After the Christmas tree lighting,
The Blend
will perform. The Blend is a choral group with 71 high school juniors and seniors who perform and sing various songs.
Can the kids get a photo with Santa?
Yes, Santa will be in Eaton Hall (in Town Hall) after the parade for free photos.
Find out more on Facebook:
Like and follow the
Christmas Under the Stars Facebook page
for event information and updates.
Hope to see you there! If you've attended Christmas Under the Stars before or if you have a float in the parade, we'd like you to weigh in... What's your favorite part of the event?