Liquid nitrogen smoke billowing over the counter top as ice cream is made to order while cakes and coffee tempt you on the other side of the shop.
That was my first impression as I walked into Gee's Nice Cream and Joy's Cakery in Plainfield, Indiana.
I immediately realized this was no ordinary shop and one I had to recommend to anyone who would listen. But as I soon learned, there was much more to this story.
Deb Gee and Joy Arkins have been best friends for 20 years. They raised their kids here, their husbands are also best friends and they all vacation together. So it makes sense the two offer some of the sweetest treats in Hendricks County, Indiana, in their combined shop.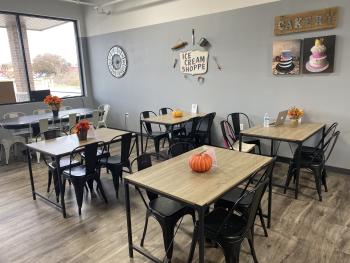 I will tell you about these local gems individually, though they share the same space. Their suite is located at 2481 E. Main St. in Plainfield, where Frigid Frog used to be just east of Kids Go Round.
Joy offers cakes and cupcakes, cakes by the slice and does custom orders for special occasions, such as weddings, birthdays, showers and anniversaries. Each day, she offers between 8 and 10 flavors of cupcakes.
This particular day, I saw chocolate chip cookie dough, almond wedding cake, caramel and peanut butter dream. Sometimes she'll feature dinner cakes, such as a six-inch round cake, for customers to purchase on a whim (forgot your mom's birthday or maybe you just had a bad day and need a cake).
Each day features a cake of the day, sold by the slice. This particular day, the flavor was Triple Chocolate Galore.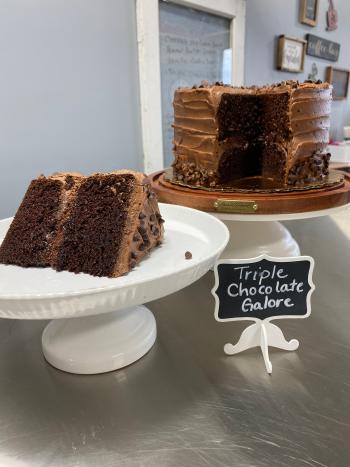 I tried the vanilla cupcake with cookie dough frosting. You guys, it tastes exactly like cookie dough, right down to the perfectly placed mini chocolate chips to offer that satisfying crunch.
And if all that wasn't enough, she keeps containers of that cookie dough frosting available for purchase. Each container includes two hefty scoops. So you can just purchase piles of cookie dough frosting.
I am so happy she thought of that.  The world needs more innovative people like her. She even has special offerings on what she calls gluten-free Fridays for those who have dietary restrictions.
Store hours for Joy's Cakery are Tuesdays to Thursdays 10 a.m. to 8 p.m., Fridays and Saturdays 10 a.m. to 9 p.m., Sundays 2 to 7 p.m. and closed on Mondays.
Joy opened her own shop two years ago on Main Street in Plainfield. When that land got purchased by developers, Joy found a space for rent that was a little bigger than she could afford, and that's where Gee's Nice Cream comes into the picture.
The coolest thing about this ice cream is that it is made with liquid nitrogen, putting the 'N' in Nice Cream. Deb's husband was in the gas business for 20 years and would bring home little cans of nitrogen to make ice cream in the garage for neighbors and friends on the weekends.
Deb's husband and kids kept wanting to start a business to sell the ice cream, and once the opportunity opened up to share a space with Joy, the time seemed right.
I ordered cake batter ice cream to try with Kit Kat mix-ins, and settled into watch the process. For starters, every single serving is made to order! While this makes it hard to offer samples or take home cartons, trust me when I say it's better this way.
Deb takes fresh cream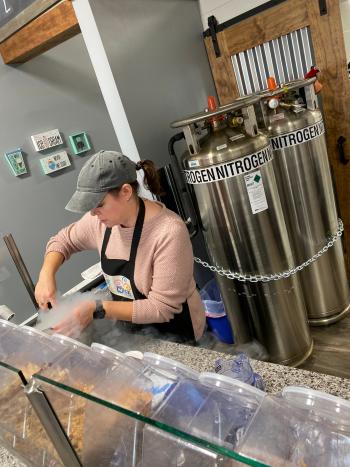 and freezes it with liquid nitrogen at a temperature of -321 degrees Fahrenheit. The smoke rolls over the counters as she expertly mixes in my candy and continues the process. It was fascinating to watch, and the ice cream tasted delectable.
Deb offers 18 flavors of ice cream with tons of mix-in options, from fruit to candy to nuts. Pick your favorite flavor and your favorite mix-in and watch the fun begin.
While the flavors and mix-ins mostly stay the same, Deb does plan to introduce seasonal flavors.
Store hours for Gee's Nice Cream are Tuesdays to Thursdays from 1 to 8 p.m., Fridays and Saturdays from noon to 9 p.m., Sundays from 2 to 7 p.m. and closed on Mondays.
If cakes and ice cream aren't enough, these ladies also sell locally roasted coffee out of their shop. An Avon firefighter roasts fresh coffee and grinds the beans in house each day to offer hot brew and cold brew coffee. Grab one to go or pair one with a cupcake for a perfect treat.
Deb and Joy also offer loyalty cards! After 10 ice cream purchases, you get a free small serving.
So stop in and visit these lovely ladies and their wonderful and entertaining offerings. The kids will go crazy over the cake flavors as well as the nitrogen gas flooding over the counter as they watch their ice cream being made in front of them.