What do faucets, hinges, shells, pearls and beads have in common? Well, if you join Joan Kisner at the Gallery on the Square in Danville, Ind., for one of her jewelry-making classes, they can all be elements of some beautiful and unique jewelry!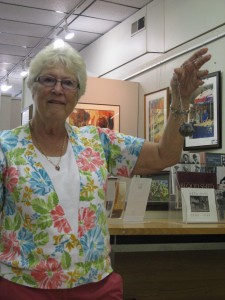 Joan is an award-winning artist in jewelry making and other visual arts like painting. But it's hard to pin down what her primary artistic medium is – the former art teacher is well-schooled in all of them. That's one of the best things about taking a class at the
Gallery on the Square
; the instructors are great talents and are just so willing to share. Joan collects bits from all over the world and lets class participants choose from the findings for their own creations. I am a bit of a rock hound, so when I saw the ammonite fossil it truly spoke to me. I created a necklace with it and some earrings with some other stone beads I loved. I have tried my hand at making jewelry before as evidenced by the tubes of beads and pliers and findings in the special tote I got for a holiday gift. But many of the pieces I make are never worn and end up being dismantled. After listening to Joan talk about selecting items and putting them together, I realized there were two reasons:
I try too hard to make something perfect.
I try to combine too many elements.
Through Joan's gentle guidance and "Hey, try it and see what you think," attitude, I felt less stressed to "get it right." There really wasn't a right or a wrong – she gives you permission to just do. I was apparently not the only one who needed to hear it as most of the other participants started out slowly picking up items from the masses strewn down the gallery tables, but then began to gather up bits and bobs to combine into necklaces and earrings and bracelets.
What struck me as I watched each person in the class working – some with teeth clamped down on tongues and lips in deep concentration – was that every piece of jewelry being created was unique in color, in style, in design, in what it was made from and in how the maker wanted it to be. Three of the participants were out-of-towners, here for a weekend on the
Rural Routes to Main Street Cultural Trail
through
Hendricks County
. They'd been to Lisa Pelo's Hot Blown Glass studio in Clayton and were spending the night at a Hendricks County 
hotel
. Just by luck, they were going to be able to enjoy the Music on the Square as the bands were setting up and practicing for the evening performance while our class created our masterpieces.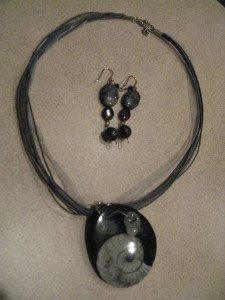 As the class wound down, there was sharing all around, and I don't think anyone had a piece that wasn't going to be worn or that will be dismantled. In fact, most of us wore our adornments out the door! I really am waiting impatiently for Joan to offer her wire-wrapping class, and I think after mentioning it several times, she's got me at the top of the list for the event notice. You may be surprised, too, at what you can create if you join a class! Different artists provide weekly classes in pottery, painting and pin weaving. Call the Gallery on the Square at (317) 386-3111 or visit their website by clicking
here
for more information.