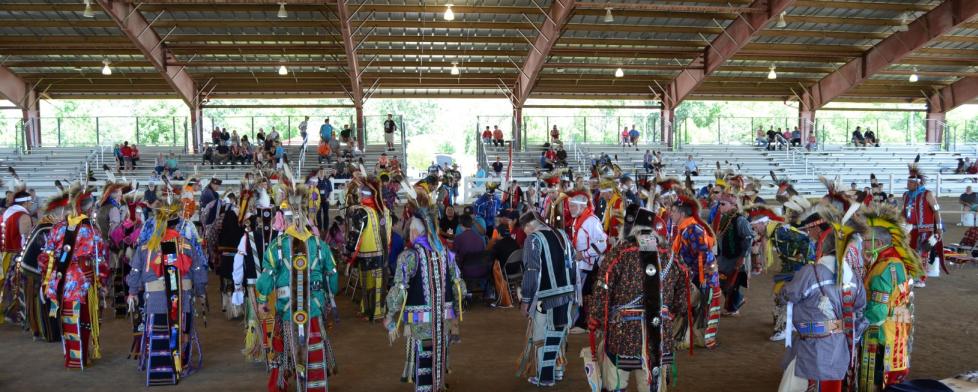 National Powwow XVII will return to Hendricks County yet again and organizers want to encourage everyone -- both American Indian and non-Indian alike -- to come out and join in the celebration. This incredible four-day event that draws people from all over the country will provide a unique opportunity to experience and celebrate American Indian culture and tradition.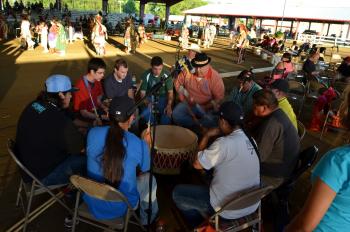 Only held every three years, Hendricks County is honored to serve as the host site for a third time.
Some of you are probably wondering what National Powwow is? 
Simply put... it's a celebration. More broadly, National Powwow aims to entertain and educate guests about American Indian culture and encourage the celebration of those traditions.
If I could offer just one bit of insider advice, I would emphasize how eager the participants and coordinators of National Powwow are to welcome their guests and provide an authentic experience. There will not be a history test before you are granted entrance, nor do you need to have tribal dance experience in order to participate. It's quite the opposite. 
You 'll want to check out the full schedule for all the detailed whens and wheres, but here's a summary of all this event has to offer.
Entertainment
No powwow would be complete without the ritual of music and dancing. Every evening, during this four-day event, the arena will be filled with impressive music and dance. Gorgeous tribal dancing including Gourd, Grand Entry and Inter-Tribal sessions are sure to encourage even the most modest guests to join in. Gather around the skilled hand drummers to experience the unique song and music this culture has to offer.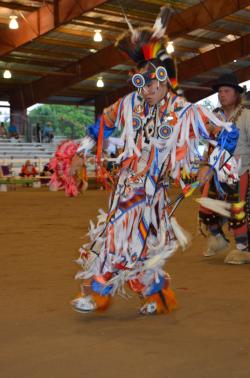 It's impossible not to be taken by the beauty and detail of all of the men, women and children dressed in full regalia. Participation is key at National Powwow. When you hear the MC announce an "inter-tribal" dance, that's your cue to join in. Accompany the kids and share in their delight as they soak up all the best of the powwow tradition. Amateurs need not fear, participants just want you to join in with them.
The kiddos will have another chance to learn and show off their tribal dance skills at the Children's Powwow on the Saturday morning of the festival. Additional kids crafts and activities will follow.
Authentic Food and Market
Explore vendor row for delicious food and a variety of quality and hand-crafted merchandise. 
Food vendors will serve authentic dishes including Bison burgers and the popular fry bread. You might also want to try an Indian taco. Stroll the market to browse unique items and real craftsmanship, including beadwork, woodwork, silverwork, jewelry, artwork and quilts. You might even find a full set of regalia in your size.
Traditional Displays, Tributes and Specials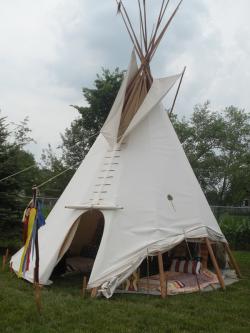 You'll definitely want to tour tipi village, where you'll find scores of elaborate tipis. As you wander the encampment, you're sure to be impressed by the detail creativity and skill that contestants put into these tipi dwellings.
You'll also want to check out the exhibitions where you'll find incredible craft displays with some of the best quillwork and beadwork. Additionally, you will want to keep an eye on the schedule for the awesome Birds of Prey presentation. 
Another aspect of this event that I truly appreciate is the effort they make to hold tributes. A tribute to veterans will be held in the arena from 2-5 p.m. on Friday of the event with a flag retirement ceremony to follow.
A new addition to this year's event will be a 5K fun run. You can get more information and register to participate here.
Education
All the opportunities and activities I have listed above provide quite the learning experience, but National Powwow wants to educate its guests even more and provide their participants the opportunity to share their knowledge and skill. You'll find a list of various seminars and workshops on the daily schedule. Learn about war dance, gourd dance and the clothing women wear while they dance. Check out various trade seminars to learn about the materials used and the skills required for silverwork, beadwork and basket making.
I want to experience the tipi living seminar on Sunday morning especially before touring the encampment. I'm also excited about the White Pines Primitive Skills Demonstration that will occur on both Saturday and Sunday. 
Hopefully, you're thinking what I'm thinking. What better opportunity will you find this summer to spend the weekend entertained and educated with your whole family? The chance to enjoy this beautiful culture and participate in these long-established traditions is truly a rare experience.
Important Details
What: National Powwow XVII
When: July 6-9, 2017
Where: Hendricks County 4-H Fairgrounds - 1900 E. Main St., Danville
Cost: $6 per person. Tickets can be purchased at the gate. Hendricks County residents receive $1 off admission on Sunday.
Parking: $1 per vehicle.
I hope you will invest some time in experiencing this amazing event that only occurs every three years. It isn't often you can find such a family-friendly, cultural event so close to home. You won't want to miss it.