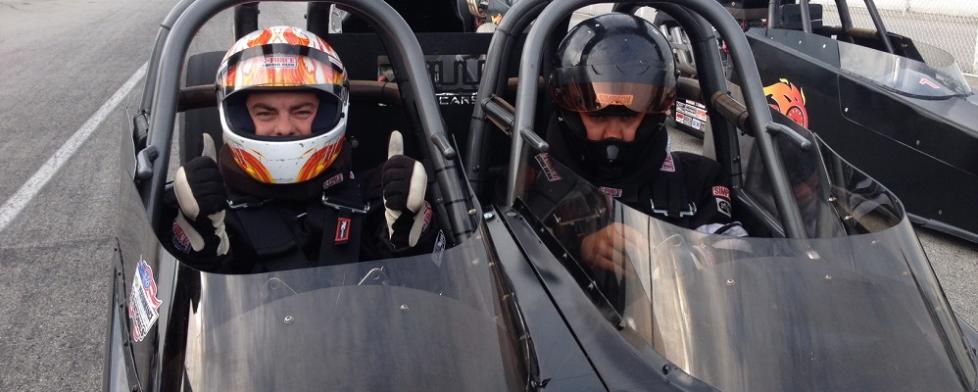 I have been a sports fan my entire life. That being said, I was never a huge motorsports fan, which really became an interesting dynamic when I moved to Central Indiana in the late 1990s.
Nearly 20 years after moving here, I still wouldn't call myself a big motorsports fan, but one particular sport on wheels has definitely swayed me in that direction, and that is the NHRA and drag racing.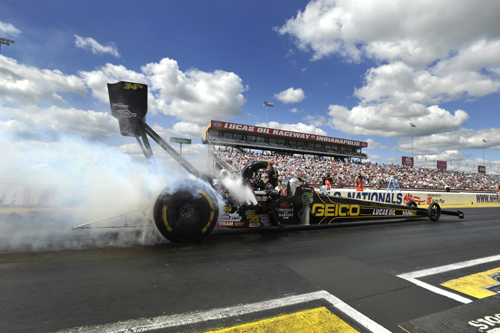 There is just something about the speed and power of these machines, and the cool thing about Hendricks County is we have the Super Bowl of that sport right here every Labor Day weekend -- the
Chervolet Performance U.S. Nationals
, which is Aug. 27-Sept. 1 this year!
I have a new appreciation for professional drag racers after an experience that I was lucky enough to enjoy this past week. My gig here at Visit Hendricks County has afforded me some amazing opportunities including a media event two years ago in which I got to race Ford Mustangs down the quarter-mile track.
While that was a blast and provided a lasting memory, it paled in comparison to what I got to do this week.
Doug Foley, a former Top Fuel driver, brought his Pure Speed experience to the track to give us a first-hand taste of this sport with his two-seat, 800-horsepower dragsters.
I got to don a firesuit and helmet and soon found myself sinking into the capsule and being strapped in tighter than a newborn baby in a car seat. I had imagined what a ride down the strip might be like in a true dragster.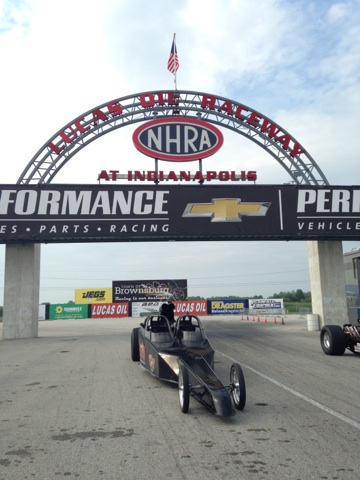 But what I experienced was so much more exhilirating than what I imagined.
From burnout to crossing the finish line, it was an experience that truly is hard to describe. But I will try.
You reach 50 mph within the first 20 feet, your stomach drops as if you are going down the biggest hill of the biggest roller coaster on earth. Your whole body is shaking so much that it was hard for me to keep my eyes focused, you can't breathe and then within seconds, you have crossed the finish line and it is all over.
Once you get your breath back, all you can do is smile and scream for joy. And every one of the riders I talked to without exception wanted to do it again.
The Pure Speed Experience even took video of our rides. I would show you mine, but it wasn't nearly as entertaining as my co-worker's video. If you can contain your laughter while watching this video of our Director of Marketing Sarah Ferguson, I think you will get a sense for what it does to your body.
What is amazing to me and goes back to my new found appreciation for the professionals in this sport is we only got up to 145 mph. I say
only
because the nitro racers reach 300 mph and face forces much stronger than what we encountered all while competing at a championship level.
If you have never been to the Cheverolet Performance U.S. Nationals before, I would highly recommend it whether you are a fan of racing or not. My first visit to U.S. Nationals came in 2011, and what struck me about the experience is how fan friendly it is from full access to the pits to the friendliness of all the race teams.
Add to that, the eyeball-rattling power as the cars rocket down the strip, and you really have a family-friendly event that everyone will enjoy. We even have
discounted tickets
for all of our readers. By clicking on that link your 15 percent discount is already built into whichever package you choose. That link also waives all service fees.
Stay tuned for some future blog posts leading up to the big event including a preview of a huge block party the town of Brownsburg is hosting Aug. 19 to kick off the celebration and some other treats that will help our readers make the most of a trip to the 2014 Chevrolet Performance U.S. Nationals.