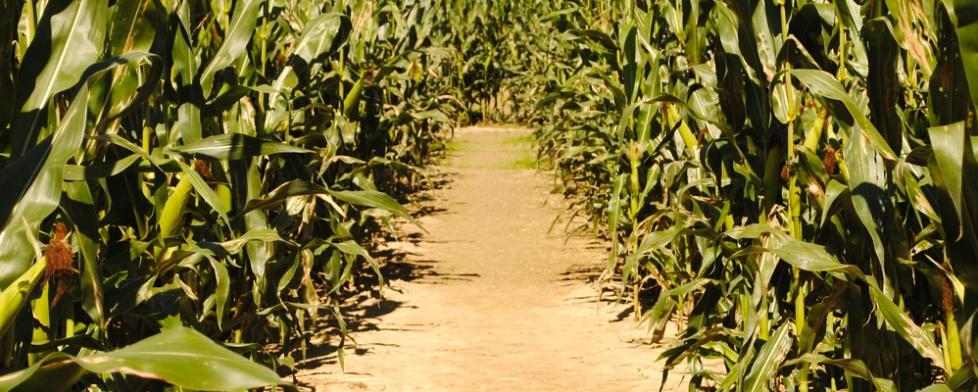 Fall is a great time to get the family out and about doing fun activities together. One of the most popular autumn traditions around here is to navigate a maze.
Here in Hendricks County, we have three distinctly different mazes in three different parts of the county that are sure to provide you and your family hours of entertainment and togetherness.
In alphabetical order:
Beasley's Corn Maze
Beasley's Orchard in Danville is a fall icon, and each year they put together a spectacular corn maze. This year is no exception. The 2016 edition of Beasley's Corn Maze celebrates the 50th anniversary of It's the Great Pumpkin, Charlie Brown! with an 8-acre maze that features Snoopy, Charlie Brown, four miles of paths and only one exit!
A great time to tackle Beasley's Corn Maze is during the Beasley's Heartland Apple Festival during the first two weekends in October. My fellow blogger, Stephanie Porter, previewed the Heartland Apple Festival yesterday, which you can find by clicking here. 
Also, dog lovers will want to mark their calendars on Oct. 22-23 for Beasley's Dog Daze in the Maze, where leashed pooches can enjoy the challenge with their owners.
OPEN:  Sept. 9 through Oct. 31, 2016
HOURS:  10 a.m. to 5 p.m., Fridays and Saturdays and noon to 5 p.m., Sundays.
COST:  $7 per person, ages 3 and up; kids 2 and younger are free
WEBSITE
Hogan Farms Corn Maze
A little bit northeast of Brownsburg lies Hogan Farms, and their corn maze. This year organizers decided to go with a tribute to the 2016 Presidential election. Navigate this maze through an outline of the White House, the American flag, a 2016 button and a message to get out and vote.
There's a rumor floating around that they may make this corn maze haunted at some point, too, so check their website frequently for information about that!
A trip to Hogan Farms will not only provide you access to the corn maze, but also to a pumpkin patch, a petting zoo, hay rides and a Kids Zone! Mark your calendar for the grand opening of this year's corn maze on Saturday from 10 a.m. to 6 p.m.
OPEN:  Sept. 24 through Oct. 30, 2016
HOURS:  2 to 6 p.m., Tuesdays through Thursdays, and 10 a.m. to 6 p.m., Fridays through Sundays.
COST:  $8 per person; credit cards accepted
McCloud Prairie Maze
Here's a little different twist: a maze cut into a prairie! That's exactly what you'll find at the McCloud Prairie Maze in McCloud Nature Park, just southwest of North Salem.
As you navigate the enormous turtle maze, see if you can make all the correct turns for the half-mile perfect course! New this year is a QR code at the entrance to the maze, allowing families to navigate the course using GPS through Google Maps. Or, if you prefer a paper map, free copies can be found at the Nature Center or downloaded from the internet.
A great time to visit McCloud Nature Park to take on the turtle maze is Saturday, Oct. 22 for the Fall Colors Run, which is immediately followed by the Fall Colors Festival. The Fall Colors Run begins at 9 a.m. and will offer 10K, 5K and one-mile courses through the brilliant autumn foliage at McCloud.
Immediately afterward (or from 10 a.m. to 4 p.m. for those who don't participate in the run), the Fall Colors Festival will feature archery practice, pumpkin carving, climbing, face painting, apple cider demonstrations and samples, s'mores over a campfire and much more.
OPEN:  Sept. 3 through Oct. 31, 2016
HOURS:  Daily from dawn to dusk
COST:  FREE
Anytime you take the family to a maze anywhere in Hendricks County, make sure to dress for the weather. Long pants, long sleeves and boots are often a good idea, especially if it has recently rained. And bring water for the whole family, too, in case you need a drink along the way.
Which Hendricks County maze will you navigate first?