During my time as a blogger for
Visit Hendricks County
, my daughter has joined me on many of my assignments. She has loved getting to go on adventures throughout the county. I recently was reflecting on all of the things I have experienced in Hendricks County and realized that not only did I learn more about the county, but my daughter did too. I compiled a list of the top five experiences my daughter enjoyed with me with a link to each story.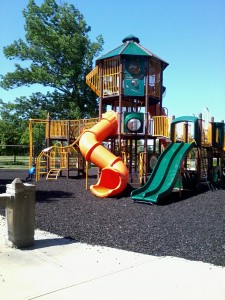 Playing on playgrounds
– I have discovered on this journey of getting to know my own community better that Hendricks County has great parks. Never did this become more evident then when Emma and I set out earlier this year to find the best playgrounds. This by far was Emma's favorite adventure. We visited parks all over the county including Hummel Park, Ellis Park and Avon Town Hall. So as soon as the weather warms up, check out
my post on where to take the kids to play
.
Places to cool off
– Hendricks County also has great places 
to cool off in the summer. My daughter loves to go swimming and play in the water.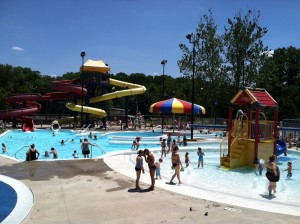 We visited Splash Island in Plainfield, The Gill Family Aquatic Center at Ellis Park in Danville and the Splash Pad at Washington Township Park. You can't go wrong with any of these, but there is an admission charge to Splash Island and the Gill Family Aquatic Center while the Splash Pad is free!
Firefly
Hike at McCloud Nature Park
 – McCloud Nature Park in North Salem offers many family programs year round, typically on Saturdays and often for free.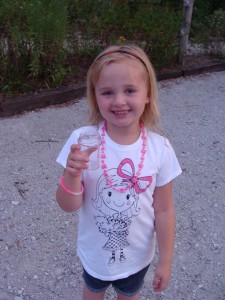 We took part in the firefly hike because I always loved collecting fireflies as a child, so I knew my daughter would love this. A naturalist took a group of us on a hike through the woods in search of fireflies. Emma loved the hike and learning along the way. I loved seeing the amazement in her face as she caught her first firefly. If catching fireflies is not your family's thing, I would still encourage you to go to their
website
and look at their program schedule to find something that interests you.
Painting pottery & working with clay
 – My daughter was able to express her creative side for two posts while covering stops along the
Rural Routes to Main Street Cultural Trail
.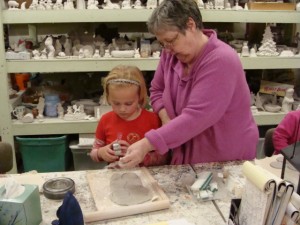 The first was Sally's Ceramics in Pittsboro. This was a special visit for me, because as a child, I visited Sally's Ceramics with my mom. During our visit, Sally taught Emma to roll out the clay and cut out a clay pumpkin. Sally also explained to Emma how clay was made. Sally was great with Emma. This is an experience that Emma still talks about. For the second experience, I took Emma along with me to Morgan County to explore the new additions to the Rural Routes to Main Street Cultural Trail. I took Emma to Everything's A Canvas Art Studio & Gifts in Martinsville. She loves to be creative, so this was a great experience for her to create her own piece of pottery.
Dining Out
- Emma loves to go out to eat. As a blogger I have taken her to several local restaurants. Her favorites are Mayberry Cafe and Pizza King Station. At the Mayberry Cafe, she loves to watch the televisions airing
The Andy Griffith Show
and getting a toy at the end of her meal. She likes Pizza King Station because of the televisions and the model train that delivers the drinks. I hope you have as much fun with your kids as Emma and I had in Hendricks County.