Ellis O'Leary has done it again. He has hidden his pot of gold somewhere in
Danville, Indiana
, and he's
certain
that no one's going to find it.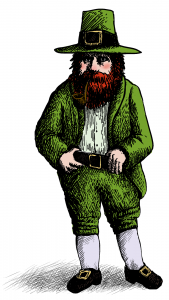 Who is Ellis O'Leary, you might ask? Well, he's the resident leprechaun of Danville, and he likes to get everyone in
Hendricks County
and beyond in the mood for St. Patrick's Day by hiding his pot of gold and daring people to find it. As leprechauns frequently are, ol' Ellis is so boastful of his ability to hide his treasure that he's willing to leave clues to it all over town. Are you sharp enough to outwit Ellis O'Leary? If you find his pot of gold, you keep it! At 10 a.m., March 9, the Danville Leprechaun will post his first clue on the website of the
Danville Parks & Recreation Department
, and the annual
GPS Scavenger Hunt
is on! My family and I tried it for the first time last year, and we had a lot of fun. The first clue on the website leads you to a location somewhere in Danville. Arrive at that location, search for the next clue, find it, and it leads you to another clue. And so on and so forth until you find the clue that leads you to O'Leary's pot of gold. We didn't fully understand the GPS Scavenger Hunt when we decided to participate in it, so in the process, we learned some valuable tips that others might find helpful.
You don't have to start at any point in particular within Danville.  For some reason, we assumed that Ellis Park was the starting line -- as did a few other families who were also there. As it turns out, you don't have to physically be anywhere in particular to get the first clue. You'll do just fine leaving from your house or any other spot in Danville. As long as you have the ability to click here for the first clue, you're good.
You don't have to have a GPS to participate.  We don't have a GPS, and my attempts to use my Garmin and my smartphone failed miserably because ... well ... I don't know what to do with a set of GPS coordinates. Fortunately, Danville Parks & Recreation (er, I mean, Ellis O'Leary) gives other hints in addition to GPS coordinates on each clue. So if you can figure out the hints, there's no need for GPS.
You don't have to start at 10 a.m.  We did, and those who are refreshing their internet browsers every half-second starting at 9:59 a.m. do, but we found that the "race" aspect of the scavenger hunt took away from the rest of the experience -- especially since we have two young daughters. This year, we're going to join the other people we saw who started the hunt whenever they felt like it. Instead of an "Amazing Race" feel to it, we're going to stop and smell the roses along the way because...
Many clues are hidden in local businesses and other interesting landmarks in Danville.  And when you're racing, you don't have the time to check out your surroundings. Last year, I remember clues being at the Bread Basket Cafe & Bakery and at Carla's Creations, but we blew through those businesses so quickly that we had no idea what they have to offer. We flew past historical landmarks because we didn't have time to stop and read them. We weren't the first ones to find Ellis O'Leary's pot of gold, either, so we felt like we cheated ourselves out of the entire experience.  This year, we'll take it at our own pace and enjoy where the clues lead us.
You don't have to drive.  We'll be driving, but that's just because I'm fat, old and lazy. Plenty of people last year walked the course simply because it was a nice day and Danville's not all that large. Ellis doesn't send you way out in the boonies or anything, so the course is very walkable. Just not for me.
Whether you want to race or just have a good time following the clues at your own pace, the GPS Scavenger Hunt in Danville is a fun, family adventure and great way for visitors to explore the wonderful, quaint town of Danville. It's also free, and you can't beat that with a shillelagh. Good luck!