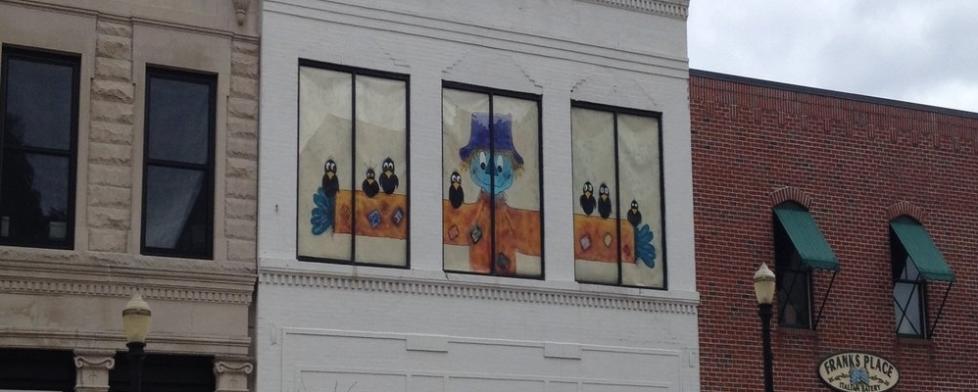 It is that time of year again. During the month of October the historic Hendricks County Square in Danville comes alive with a whole new population...of scarecrows!
Businesses and local families really show off their creativity and artistic talent in their displays. You never know what to expect. Movies, events, pop culture, the possibilities are endless.
I don't know if these creations really scare away crows, but they do attract visitors. 
And this year is no different as me and my family over the weekend explored the square. From Sesame Street to Frozen, the Mud Run to Lego artists, the competition is fierce. You can even photo bomb a selfie. Much fun!
I think this is our third annual visit to the scarecrows. Each year seems to get a little bit better in our opinion. I realize I briefly mentioned this before, but the creativity is so amazing that I just can't do it justice in words. This is truly something you have to experience for yourself to get the true effect.
We love to walk around and try to pick our favorites. Be sure to bring extra change to vote for the People's Choice Award. All money raised will go to a local food pantry and the winner gets bragging rights for the year.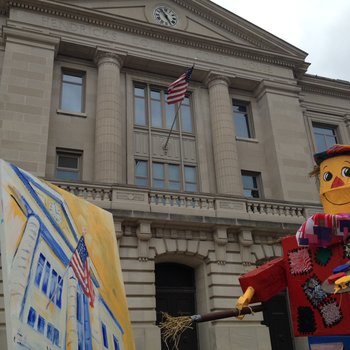 This year was a little chillier than years past. We decided a hot meal would be just the ticket to end our night in fashion. We decided on pizza at Frank's Place. They offer pizza, pasta and all things Italian and are located right there on the square. The Mayberry Cafe is also right across from the courthouse. If you've never been, it is a must.
Maybe some hot soup from The Beehive just down the street, or a hot cup of something from Court House Grounds will hit the spot.
However you choose to spend the before or after, the scarecrows are definitely worth a stroll around the courthouse in Danville.
They will be up until Oct. 31, so you have plenty of time to enjoy the fun. 
Big Bird, Elsa, Wall-E and more will be there to welcome you, and don't forget your camera. You'll want to take lots of pictures!