Friday night rolled around last week, and my wife and I were looking for something to do with the kids in
Hendricks County
. It was rainy and dreary that night, so we were looking for something to do indoors. And I don't know about you, but our money tree hasn't exactly been fruitful lately, so we were also looking for something inexpensive.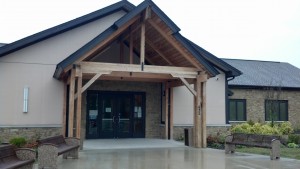 That's when my wife discovered the Family Film Series offered by
Washington Township Park
in
Avon, Indiana
. I like movies, and cheap movies are even better. For example, we always attend the
Kiwanis Klassic Family Movie Night
at the
Royal Theater
in
Danville
. So when my wife announced that admission to the Family Film Series in Avon is
free
, thanks to the
Hendricks Power Cooperative
, my ears perked up. When she said that Friday's movie was "Brave," my daughters' ears perked up (okay, mine did too -- I'm a huge fan of Pixar movies). We piled into the van and headed to Washington Township Park, my wife navigating me to the Pavilion Center back by the
Splash Pad
. She always takes the kids to the Splash Pad, so I didn't even know that section of the park existed! The Pavilion Center is a great big structure that includes several large rooms. It's pretty cool inside. For those seeking a neat
wedding spot
in Hendricks County, you might want to check out the Pavilion Center. Parking is plentiful, the area is scenic, and the indoor facility eliminates any concerns about weather on your wedding day.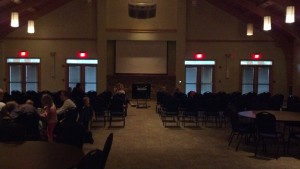 We walked inside the Pavilion Center and discovered that they had set up one of the big rooms with rows of chairs, as well as with some round tables in the back with chairs around them. People sat wherever they were comfortable, and the tables provided a nice space for those with infants or for those who brought their own dinner to the movies. My girls quickly spotted that several other children had bags of popcorn, so we learned that concessions are available. Popcorn is only $1 a bag, soft drinks are $1.50 and animal crackers are 50 cents. Heck of a deal! We enjoyed "Brave" in a comfortable setting that was very conducive to families. The atmosphere was relaxed, so people were free to move around, chase their kids, take them to the nice clean bathrooms right at the front of the Pavilion Center, get concessions and walk them around out in the lobby when the kids got a little loud. The sound system is really great, too, giving the patrons a full movie-quality audio experience. We had a very enjoyable evening, and since the event is called the Family Film Series, I wanted to know what other movies they'll be showing, so I contacted Stephani Massa with the Washington Township Park. She provided me with the entire schedule to pass along to you: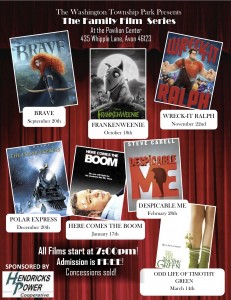 Oct. 18:  Frankenweenie
Nov. 22:  Wreck-It Ralph
Dec. 20:  Polar Express
Jan. 17:  Here Comes the Boom
Feb. 28:  Despicable Me
March 14:  The Odd Life of Timothy Green
All of the dates are Friday nights, all of the showtimes are
7 p.m.
, and all admissions are free! We're definitely putting the Family Film Series on our calendar, especially during those cold winter months when we're all stuck inside and suffering from cabin fever! Make sure you put it on your calendar, too, and I'll see you at the Pavilion Center in Washington Township Park!