On April 13,
Natural Valley Ranch
is hosting a first-ever 
Bountiful Babies at the Ranch
 event featuring baby farm animals, pony rides, face painting, and crafts. It promises to be great fun.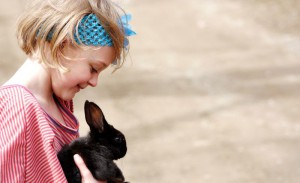 In preparation for the event, I took my girls to Natural Valley Ranch in Brownsburg for the first time to provide our readers with an insider preview. I know it's rough, but somebody had to do it. For me, going to
Natural Valley Ranch
to see their Bountiful Babies, was like stepping back in time, but in my children's shoes. When I was growing up, my aunt had a small farm.  She kept three or four horses and even a cow. As often happens in life, the time came for her to move for her job, and the farm and all its horses were sold. I never forgot those memories of visiting the farm and the horses and riding and playing on the farm. I built a lot of memories there that I dust off on rare occasions. Those memories all flooded to the surface, echoed in the pure joy on my girls faces when they saw all of the horses at Natural Valley Ranch.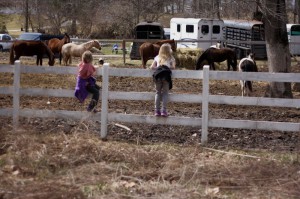 They knew they were in for a treat, seeing baby animals, but they hadn't expected so many horses within not just sight, but touching distance. They climbed on the fence to watch, and dream of what it would be like to ride. Before they knew it though, they were swept up into an afternoon filled with activities that wore them out.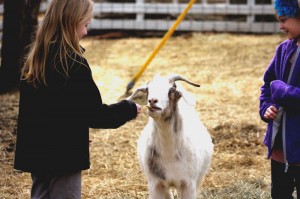 First they went to see the goats. They walked among them, petted them, and attempted to feed them hay (yes, attempted. The goats didn't care so much). One goat in particular was super friendly, and rubbed up on them, and me, like a cat! The girls learned that the goats liked being scratched between the horns because they can't itch there, and took that lesson to heart, helping out as many goats to scratch that itch as would let them.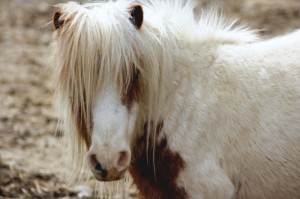 Then, it was on to the miniature horses, which were just their size. The girls absolutely loved this part. They were able to pet and get close to the small horses and then watch them run. Our guide for the petting zoo portion, Kyla, talked about each animal and its personality like they were old friends, which I particularly loved. It showed how much the caregivers love their animals. Of course, what would a visit be without an actual pony ride? Both of my girls got to ride. Kennedy, my little daredevil, practically jumped on the horses back. She went around the paddock three times, and then again when her sister was done. Molly, with her fear of heights, took a little more coaxing despite her love of horses, but once she got the hang of it, I thought we'd never get her down.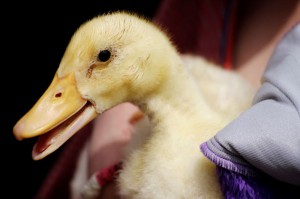 Then came the main reason for our visit -- the baby animals! A bunny, a Pekin duckling, a goat, and two Rhode Island Red chickens were there for the girls to meet. While they were handed each animal, the ranch owner, Marie, gave a little lesson. She showed the girls how to tell what color eggs the chicken will lay by checking the color of its ears. Little moments of education mixed in with cute baby animals? Best way to spend my afternoon. Even I learned things I didn't know before. As I told Marie, this was our first time visiting the ranch -- I didn't even know it was there -- but now we plan to return often. It's a beautiful spot, hidden away, but still close to town. We all could have spent our whole day there and not had enough, but we had to make our way home eventually. So we waved goodbye to the baby animals and the horses with horses painted on hands and faces, and promises to return soon.
And return we will, for the Bountiful Babies on April 13!  Rain or shine, the Ranch will be open for the event (and plans are set in case of rain, with an inside location for pictures and visiting with the babies). For just $35 for six people, you'll be able to see all the baby animals, have face painting, learn about horses and goats and do crafts.  It will be an afternoon jam-packed with activities!  It's not on the list, but Marie said she was getting some kittens as well to add to the mix of baby animals. So get your family together, don't forget to wear your "It's okay to get dirty" clothes, and head out to the ranch.  With baby animals and horses, you can't miss.
Natural Valley Ranch
6310 E. County Road 350 North. Brownsburg, IN 46112