I can't tell you how excited I was to learn that Frazee Gardens had Fairy Garden classes. With my girls' birthdays in April and my promise for that precious one-on-one time with the kids, I knew exactly what our next "kid date" would be.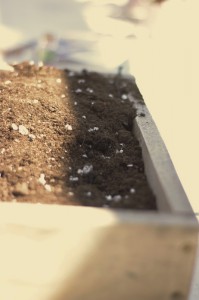 The week of the girls' birthdays Frazee had two classes, so we were able to split up the girls and still get in our time. This time around Erik took Molly, and I got Miss Kennedy. I called in advance and got us set up for our class & prepaid the set-up fee of $10 for which we'd get rocks, soil, three plants, and moss. After that the decorations were up to us. You can buy your own outside of the nursery, you can even bring your own pot - but Frazee has an entire corner dedicated to Fairy Garden goods. In that corner they have everything from little tables, to croquet sets, to animals, and even water towers and windmills if you're going for the complex version.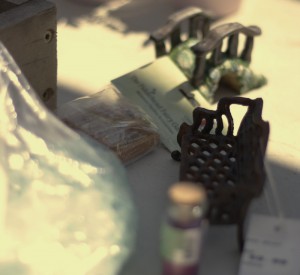 After much deliberation and discussion, Kennedy settled on a little bridge, a croquet set and bench. We picked up some rocks to represent water and some fairy dust, because you can't have a fairy garden without fairy dust. As this was our first go-round (I expect more, trust me), we went with the wood box they provided, but next time we'll probably bring our own. I'm already looking into new ones and fairy houses (my girls are hooked). Kennedy couldn't wait to get started laying out her fairy furniture. I'm telling you what, she was fairly buzzing in eagerness. As we created a lazy river and pond, and positioned her bridge and other items, she chattered on happily about what the fairies would love about her particular garden. The color of fairy dust she used, and how they would play croquet.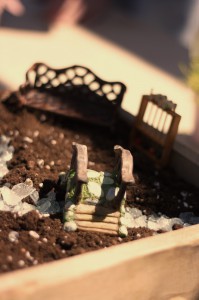 The best part about this activity was seeing my child's imagination at play. The stories she created around this simple little fairy garden were amazing. Just when I thought she'd outgrown those fairy movies - I realized she hadn't outgrown a belief in magic and fairies. Once the garden was complete, we brought it home, and the rest of the day was spent sneaking around trying to get a glimpse of the fairies. The fairies were smarter than them, though. They waited until the girls were in bed before playing croquet and haphazardly leaving a mallet on the bench instead of putting it away. Lazy fairies.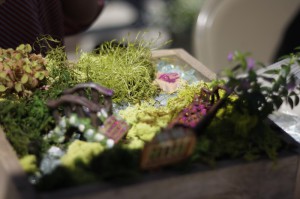 It's the gift that keeps on giving. We get stories about the gardens and requests to make more. We're making plans for another round of gardens during the summer. I'm already seeking out real estate - they want an actual house this time. I clearly highly recommend going to Frazee and making some fairy gardens with one caveat. Be warned: it's highly addictive. The next classes are in June, the date is yet to be determined. Keep an eye on the Frazee Gardens 
Website
or
Facebook
page for the latest, or I've found the best way to get all the information, is to call (317) 858-8440. Call in advance, the class we attended was packed!