So, we've all been there or at least heard about both the joys and headaches of having all your family members coming home for Thanksgiving, Christmas or both. With so much going on as you worry about feeding the masses, decorating your home and catering to their needs, why not take one concern out of the equation?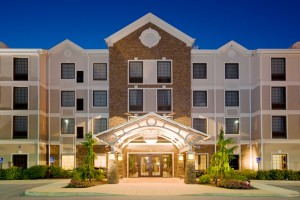 One of this year's Cookie Recipe Trail locations (more on the Cookie Trail in a moment) can do just that. Staybridge Suites in Plainfield, Indiana, is offering an inexpensive Home for the Holidays package to help local families who have visitors coming to Hendricks County. So, why worry about whether you have enough beds and that the sheets are clean when Staybridge can take care of all that for your family allowing you to rest comfortably?
I have stayed at a few Staybridge locations, and I love their spacious rooms with a kitchen and their family-friendly, pet-friendly style. You also can't beat their Home for the Holidays deal. Conveniently located near the Indianapolis International Airport and I-70,  Staybridge Suites has rooms available (on a limited basis) that include a kitchen, a queen-sized bed and a pull-out sofa, and they start at $89.99 a night! For $5 more, you can also receive a welcome package (with all sorts of information about things to do in Hendricks County) and a $5 gift card to Chateau Thomas Winery, which is right next door. In addition to all of that, as I previously alluded to, Staybridge Suites is one of 12 locations in
Hendricks County
on this year's
Cookie Recipe Trail
.  I've never experienced this three-year tradition, but I'm excited to grab up as many of the cookie recipes as I can. Here's what happens: You get an opportunity to pick up 12 cookie recipes by visiting each of the participating locations. You can get the entire list of locations by clicking
here
or by visiting Staybridge Suites. You use your smartphone to scan a QR code at each location or get a website to download the recipe online on your home computer.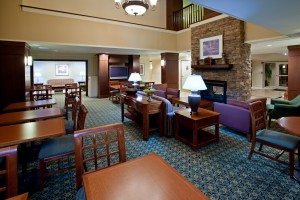 So if you're like me and you're frantically trying to find a place for your aunt and uncle to stay because the house is packed, you no longer have to worry. They can enjoy a comfortable stay at Staybridge Suites with free breakfast and dinner (available some weeknights), and they can pick up a cookie recipe to boot! I'll be happy knowing my aunt and uncle don't have to sleep on the couch and floor at my house and can enjoy a restful night's sleep at one of Hendricks County's best hotels.
Staybridge Suites
6295 Cambridge Way, Plainfield1 (877) 238-8899 or (317) 839-2700 
Staybridge Suites amenities:
Rooms with a 27-inch flat screen with DVD player, in-room kitchen, free, high-speed Internet access, free daily breakfast and dinner (on certain weeknights), free on-site guest laundry services.
Cookie recipe:
 Stop in the Staybridge Suites lobby to pick up your cookie recipe.