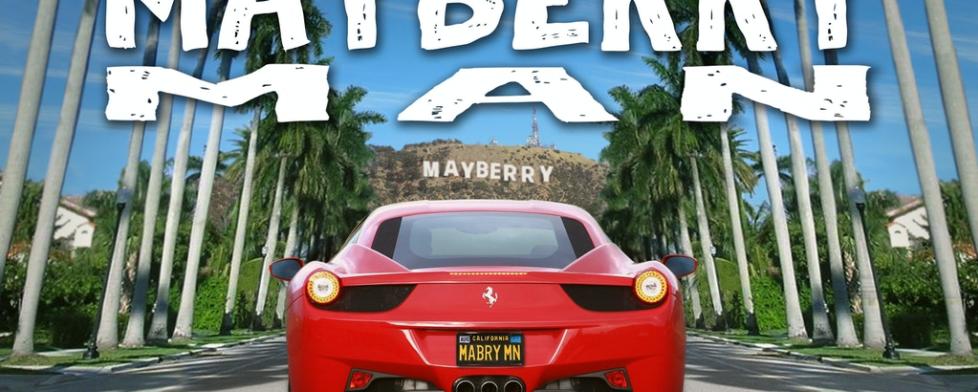 If you are a fan of The Andy Griffith Show, you probably already are aware of the Mayberry Cafe in Danville, Indiana, and the popular Mayberry in the Midwest festival that occurs every May there. But we have some big news of something new -- a one-time event -- that you won't want to miss in September.
Originally scheduled to occur during this past May's Mayberry in the Midwest festival, which was cancelled because of the pandemic, producers of the Mayberry Man movie have announced that filming for the movie will proceed over Labor Day Weekend in Danville.
The show's writer Stark Howell and producer Cort Howell, are brothers and sons of actor Hoke Howell who appeared on The Andy Griffith Show twice. Their inspiration for the movie came when they attended a Mayberry festival for the first time last year. They said they were amazed by the friendliness and passion of the people attending and volunteering and felt the world needed more of that wholesome Mayberry vibe.
The movie follows an arrogant Hollywood movie star who is caught speeding in a small southern town and is sentenced to attend Mayberry Fest, an Andy Griffith Show-themed festival. Introduced to modern day Mayberry, he discovers the true meaning of family and friendship.
Become an Extra

In a recent video, Cort Howell said they not only got the go ahead to film scenes for the show in downtown Danville, Sept. 4-7, but they also got approval from the town to invite fans to watch and even participate as extras.
They need people to give the movie that festival atmosphere that they now must recreate after this year's festival was cancelled. They plan to shut down streets around the Hendricks County Courthouse Square throughout Labor Day Weekend and also will film scenes at the Hendricks County 4-H Fairgrounds on the outskirts of Danville on Sept. 8 & 9.
On Saturday, Sept. 5, they plan to film an opening ceremony scene from the festival around the Courthouse Square, and they need a big crowd to get it done. Then on Sunday, Sept. 6, the filming continues as they recreate some of the festival's top activities including a pie-eating contest and Tribute Artists interacting with fans. Cast members and official extra-level backers will be the focus in the scenes, so even if fans attend to serve as extras, there is no guarantee they will make it into the film, he said.
Finally, on Monday, Sept. 7, they will recreate the Mayberry in the Midwest's popular parade and need people lining the parade route that will be shot on side streets just south of the square. They likely will run the parade multiple times that day to get the shots they need.
Filming at the Hendricks County 4-H Fairgrounds & Conference Complex, 1900 E. Main St., Danville, will recreate the festival's popular Meet & Greet event which is always held the night before the main festival takes place. On Tuesday, Sept. 8, filming will be limited to interior scenes. However, fans can come to the fairgrounds on Wednesday, Sept. 9 to potentially become extras for exterior scenes in front of the fairgrounds main entrance.
If you want to have a chance of being included in the film, organizers recommend dressing similar to the show. Men wearing fedoras or Panama hats instead of ball caps, collared shirts instead of T-shirts. Women should consider cardigan sweaters or dresses. Make sure to avoid wearing anything with any kind of advertising on it.
Downtown Buildings Transformed to Hollywood Sets
A couple of the buildings on the Courthouse Square will have their front facades changed temporarily for the filming of the movie. Those buildings include our own Visit Hendricks County building, which will be changed to look exactly like the market in The Andy Griffith Show.
They also plan to recreate Floyd's Barber Shop and Bert Miller's Stand, where they will sell Mayberry Man movie and other Mayberry souvenirs throughout the weekend.
Filming also will take place in Indianapolis at the old Governor's mansion in the North Meridian Historic District and at the historic Perry Mansion as well as in Mount Airy, N.C. and Los Angeles.
Safety Precautions
Cort Howell said they plan to take every precaution to ensure they don't spread the virus, but that inherit risks exist, which anyone who plans to attend must weigh before coming out.
Their plans include social distancing as much as possible even in the scenes where they want more people to make it look like big crowds. Through the magic of film, they can use angles that make it looked packed while still social distancing. Luckily most of the filming will be outside, which will help, he said. Indoor filming will be restricted to a limited number of people.
They have reduced their crew and cast sizes. Official cast, crew and extras will have daily temperature checks and will have to sign a COVID waiver. They also plan to use masks when not filming and appropriate and will have hand-washing and sanitation stations on site.
For more information about the filming schedule, the movie or the safety precautions, click here or watch the video below: