The weather was perfect last weekend for the first Danville (Ind.) Farmers Market of 2012 and the annual
Geranium Festival
, which helps kick off the season. The sun was shining, and the temperature was on the cool side at first but soon warmed.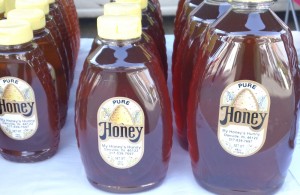 Jefferson Street on the west side of the Hendricks County Courthouse Square was closed to traffic, and the vendors lined both sides of the street. More vendors were on Marion Street on the south side of the square, and a couple vendors were along Washington Street on the east side. There were 24 vendors in all plus some of the merchants around the square opened up early to allow visitors into their shops while other
Danville
merchants set up booths within the farmers market.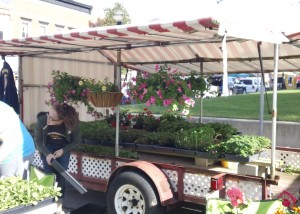 My first stop was at Jane's On the Square, the newly owned consignment shop of gently worn clothes and accessories. I then headed to the Danville High School FFA (Future Farmers of America) club's booth to admire the beautiful plants they grew to sell as a fund-raiser for their club. The Master Gardeners also had a booth to answer questions about gardening, provide informational sheets, and give away seed packets. The Garden Club had a nice assortment of perennials for sale that they had grown in their own gardens. They also were willing to answer any questions.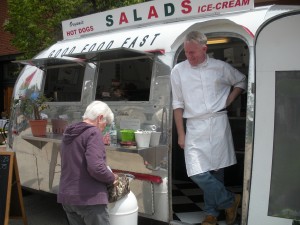 I looked up from the admiring the beautiful plants and saw a small Airstream trailer, "Mabel on the Move," selling assorted food items. I wondered, 'Is Mabel on the Move the first of the food-truck craze to hit Danville?' After seeing Mabel, I backtracked back down Marion Street toward Jefferson Street where the actual farmers market will be stationed every Saturday now through Sept. 15. It is the first of the
Hendricks County
farmers markets to open this season with Avon, Brownsburg and Plainfield starting next month. You can find more information about all the Hendricks County farmers markets by clicking
here
. I saw a few home-based dessert booths trying to get their name and products out to the community. I sampled cake truffles, cupcakes, raw cheese from the Amish, kettle corn and smelled the aroma of the hot, fresh mini-donuts that were being made to sell. Since it's early in the growing season there weren't a lot of vegetables being sold, only the cool weather vegetables could be found, but that will soon change. The Geranium Festival and Danville Farmers Market really provide a little bit of everything and really make for a great event to launch the farmers market season. Not only is it a good place to shop for plants, homemade products, and learn about gardening, but you can see and catch up with friends or meet new ones.