One of my favorite weekends of the year is the weekend the Farmers Market returns to Danville. I'm always there on opening weekend, and this year was no different.
As the earliest starting Farmers Market in Hendricks County, the traditional produce you might expect to find isn't ripe yet, but that never deters Danville from starting off with a bang. The square was packed thanks to the accompanying Geranium Festival and
Handmade Market
. Vendors lined the square with wares and fresh foods. From homemade natural soaps, to dog treats, to candy and cupcakes, the farmers market has you covered. Farmers markets are great community events that help you support the local economy while simultaneously stocking your fridge.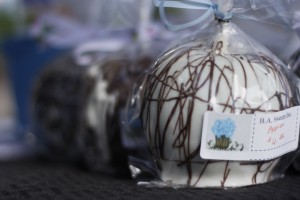 I have to admit a terrible sin I've committed for the past 10 years, though. In 10 years of attending the farmers market, all I've ever done is gone, picked out food and left. I put my New York-upbringing into use, kept my head down, did my business and got out. I'm proud to say that this year I stepped out of my comfort zone and started talking to the vendors. I found everyone to be friendly and their stories fascinating. I collected business cards and shared stories and laughter with almost every vendor at the market (some were chatting with others -- I'll catch them next week). Along the way, I cleaned myself out of the cash I brought buying some homemade sweets for my girls, dog treats that my dog has gone ballistic over (she won't eat any others anymore, I'm not kidding), and the 'mom' sort of specialty items like handmade bug spray and laundry detergent.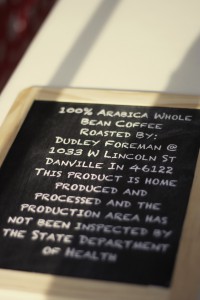 This year there's even a coffee roaster that I know my dad is going to make the trip to see. I know my husband is most looking forward to fresh tomato season, while I'll be buying all the cucumbers when they are in season. Although this year I'm going to have to carve out a lot more time as I want to check out all of the Hendricks County farmers markets. By early next month, all five will be open weekly, most through September. Here is a rundown of each to get you ready: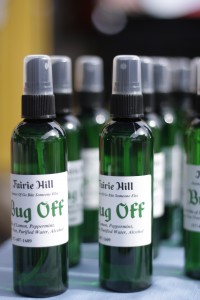 Danville's Farmers Market 
started on May 10 and runs until Sept. 20 on Danville's historic Courthouse Square, from 8 a.m. until noon every Saturday.
Avon Farmers Market
starts June 3 and runs from 4-7 p.m. every Tuesday until Sept. 23, in front of the Hendricks Regional Health building on U.S. 36 just east of Dan Jones Road.
Brownsburg Farmers Market
 starts June 5 and runs from 4-7 p.m. every Thursday until Sept. 25 at Brownsburg Town Hall.
Plainfield Farmers Market
starts June 4 and runs from 4-7 p.m. every Wednesday until Sept. 24 on the lawn of the Plainfield Friends Meeting on U.S. 40 in downtown Plainfield.
Pittsboro Farmers Market
is another Saturday affair from 9-11 a.m. starting July 5 through Aug. 30 at Scamahorn Park, located on the east end of town on U.S. 136. So all across Hendricks County you have some excellent chances to shop local, enjoy fresh produce and handmade items, meet some friendly and interesting people and fill your fridge. Check one or all of them out. I highly recommend it!