Father's Day is June 21, and with all of us slowly emerging from the COVID-19 pandemic, it can be challenging to figure out how to celebrate dad this year. You want to spend time with your father, you want to have fun, but you also want to be safe, right?
Well, we have some options here in Hendricks County, Indiana, that will help you enjoy Father's Day with your dad in a variety of settings, always taking social distancing into consideration.
Indy Summer Nationals at Lucas Oil Raceway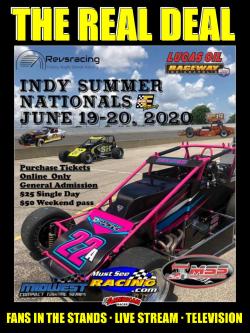 Lots of dads like sports, and I'm among the bajillions of fathers who are sports fans starving for competition. So how does a weekend of racing at Lucas Oil Raceway in Brownsburg sound to dads like us? Like heaven.
Over the course of June 18-20, the Indy Summer Nationals will take place on the oval track and the drag strip, featuring sprint cars, super modifieds, compacts and more. There will be a car show, a bike show and loads upon loads of competition to watch. 
Best of all, you and your dad can be there at the track for all of the action! For the schedule of events and how to purchase tickets online, click here.
Not comfortable attending sporting events yet? Not everyone is. No judgment here.
You can watch all the action with dad on Saturday, June 20 in the comfort of your own home. Simply pop some popcorn, crack open a cold drink and click here to watch MustSeeRacing.tv.
Catch a Movie
The Royal Theater in Danville is planning to reopen very soon, and their first weekend of operation will be Father's Day weekend! How long has it been since you and dad were in a movie theater? Forever, right?
The Royal Theater is my favorite place to watch a movie in Hendricks County because it's a historic place in our county, yet it's been remodeled with modern seats, restrooms, projectors and more. They show first-run and classic movies there, and ticket prices are super reasonable, as are concessions prices. The staff is always friendly and welcoming.
They plan to show "Wizard of Oz" over Father's Day weekend, with more titles coming soon. To learn more, click here.
Not comfortable with going to a movie theater yet? No worries! The Royal Theater is also providing virtual movies that you and Dad can watch together at home! Click here to see the virtual movies being offered and how to watch them.
Visit a Park or Trail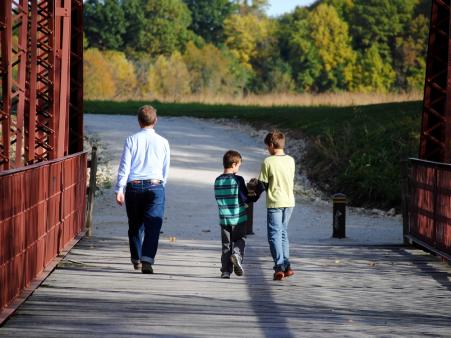 Social distancing is super easy at a park or on a trail. There are several options for parks and trails in Hendricks County and even more options within an hour of Hendricks County where you and your father can get outdoors, stretch your legs, enjoy some fresh air and companionship together.
Want to learn more about those options? Click here.
Many parks within Hendricks County have trails within them, and we also have two rail trails: the B&O Trail in Brownsburg and the Vandalia Trail across the southern portion of the county. Both of those rail trails have received significant upgrades recently, and you can read all about them by clicking here before you and your dad go exploring.
Some of my suggestions for parks to explore with dad:
Psssst! Want the scoop on a little-known option from an inside source? I work for Hendricks County Parks & Recreation -- the agency that operates McCloud Nature Park. If you're not familiar, McCloud Nature Park is a 232-acre slice of bliss with lots of stuff to do with your dad.
The little-known option is that we have a pavilion there that is available for rent! For $50, you get the shelter for the whole day from dawn until dusk. Grill out with dad at the pavilion, take him fishing in Big Walnut Creek, hike any of the 6.5 miles of trails and check out all the other stuff to do at the park.
Then retreat to the shelter to rest and chat because you have the pavilion all to yourself for the whole day. Social distancing guaranteed! Want to learn more about the McCloud Nature Park pavilion and how to reserve it? Click here. But hurry! We only have one shelter!
Play a Round of Golf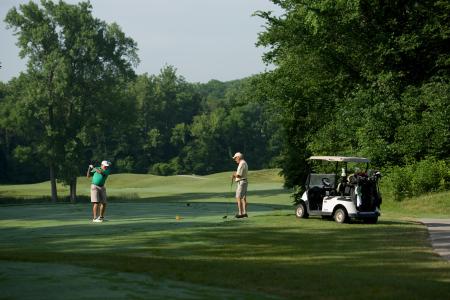 Personally, I have no idea why anyone would subject themselves to hours of the absolutely most frustrating activity in the history of mankind. But even though I can't hit the broad side of a barn with a golf ball from two feet away and the whole sport makes me want to tear my hair out in exasperation, golf is very popular in Hendricks County.
We have several golf courses around the county and they're all operational. I've only played one -- Twin Bridges Golf Course in Danville -- and I can tell you that the property there is beautiful, the staff is friendly, the carts are nice and the pro shop has a lot of stuff in it.
I can also tell you my game was horrible, the course now has about 953 golf balls of mine in various places that I could never locate and they might have me on video sobbing in anguish somewhere around the 10th hole with my club bent across the top of my head.
Josh, my editor, is a much better golfer than me and has a much more positive outlook on the sport. He has written a great piece about the top golf courses and holes in Hendricks County that you and your dad might enjoy if you're like Josh and the polar opposite of me.
Grab a Bite to Eat
Regardless of what you do with your Father's Day weekend, you've got to eat. A lot of our restaurants here in Hendricks County are open with limited seating capacity, almost all of them offer carry-out (some offer carry-out alcohol, too), and several will deliver to your home or to your vehicle curbside. 
So no matter what you and your dad are in the mood to eat and how comfortable either of you are with getting out into the public, we've got you covered with our Hendricks County Restaurant Reopening Guide. Check it out and find a special Father's Day meal that works for everyone.
Happy Father's Day!