Are you a "treasure hunter?" Do you have the eye to spot a valuable antique within a huge store?  I sure wish I did. But hey, doesn't mean I can start practicing now!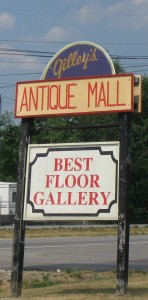 As a fan of "Antiques Roadshow" on PBS, I was thrilled to hear about a large antique mall in
Hendricks County
.
Gilley's Antique Mall
is located on U.S. 40 on the western edge of
Plainfield, Indiana
(just past the police department). Some information that I learned about Gilley's Antique Mall:
There are more than 200 dealer booths, with more than 100 showcases.
There is 35,000 square feet of space.
That's a lot of antiques! I happen to love antiques, but I don't really own any. I have a few pieces of costume jewelry, and I have a real interest in antique jewelry and beaded purses.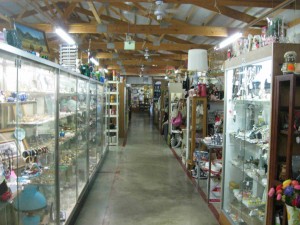 There's so much to see at Gilley's Antique Mall that I recommend having a plan. I was not able to see everything during one visit, so I jotted a list down of items that I wanted to find. Here's an example of some of the antiques you may see at the various booths and in the cases at Gilley's.
Cameras
Dolls
Furniture (chairs, tables)
Housewares (dishes, pots, pans)
Jewelry (necklaces, pins, rings, watches)
Lamps
Record players
I will tell you there is so much to look at that I got lost a time or two. I didn't worry, because there is staff throughout Gilley's to help assist and answer questions. I asked plenty of questions. If you're looking for something in particular, ask them. They'll know where to find it.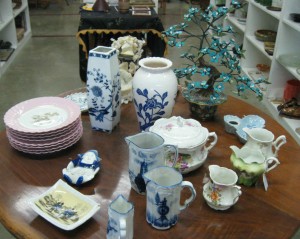 What did I love at Gilley's? That's easy. I saw some amazing necklaces in a few of the glass cases. A few of the necklaces were pieces that looked like what a movie star from the '30s or '40s would have worn (picture a necklace with lots of colorful gems that Vivien Leigh would've worn in
Gone With The Wind)
.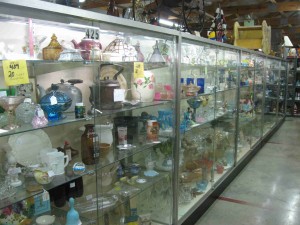 I would highly recommend a trip to this roadside market especially on the weekends when the outside flea market is in full swing. Don't miss out on finding your own piece of treasure!
Gilley's Antique Mall
Address: 5789 E. U.S. 40 Plainfield.
Phone: ( 317) 839-8779.
Hours: Open daily from 10 a.m. until 5 p.m.
Notes: There is also a large craft store (with many homemade goods) and a flooring store within the building.
What you'll find: Inexpensive items such as saucers and other dishware (under $10) to a bit more pricier items like jewelry and furniture.
What I bought: I left with a small trinket, a metal alligator, that can be displayed on a table or used as a nutcracker.  It was a steal at only $10.
Have you been to Gilley's Antique Mall before?  What's do you like about it?  What are some other antique stores I should check out in Hendricks County?  Please, leave me a note in the comments section below.