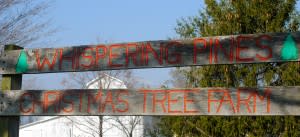 "The most enduring traditions of the season are best enjoyed in a warm embrace of kith and kin," a wise man
once said
, upon locating the perfect Christmas tree. "Thith three is a thymbol of the thpirit of the Griswold family Chrithmath." Okay, so maybe he wasn't a 
wise
man, but if you share Clark Griswold's love of taking the family out to find the perfect Christmas tree,
Evans Whispering Pines Christmas Tree Farm
 -- just west of
Danville, Indiana
-- is the place for you. Joe and Rita Evans started growing Christmas trees in 1983, and six years later -- coincidentally, the same year that the first National Lampoon movie was released starring Chevy Chase as Clark Griswold -- they began selling them on their 13 acres located at 1538 N. County Road 400 West in
Hendricks County
. A year after that, they purchased 40 additional acres across the road and now offer a wide variety of Scotch Pine, Spruce, and Canaan Fir trees to choose from, plus free hayrides to get there. If you're not into searching 53 acres for the perfect tree, Whispering Pines also offers fresh pre-cut Frasier, Douglas, Balsam and Noble Fir trees.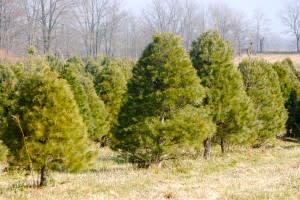 Did you make the same mistake as Griswold and forget to bring a saw? No worries. You don't have to dig your tree up. Whispering Pines has saws available for use and also offers to cut the tree down for you if getting covered in sap isn't your thing. Either way, it's the same price. Just don't plan on wearing your
hockey mask and using a chainsaw
because chainsaws aren't allowed (no word on hockey masks, though, so those are probably cool). The service doesn't stop there. Whispering Pines will shake the tree for you to remove dead needles, drill a hole in the base for your tree stand, and even help you load and tie down your tree on your vehicle. They are truly nice folks! Whispering Pines is more than just a Christmas tree farm, though. You can also get wreaths and garlands there! Choose from a wide variety of freshly made decorations or have them make one special for you in a variety of shapes and sizes. Couple the visual appeal of a wreath and garland with the smell of fresh trees, and you can't help but be filled with Christmas spirit.
Heading out to Whispering Pines is a family event, too. Kids get free coloring books and candy canes, there's free hot chocolate and coffee and tea for everyone. There's pygmy goats, a pony, and a miniature donkey to check out, and there's a gift shop where you can find all sorts of Christmas decorations and presents. It is also one of the 12 stops on this year's
Cookie Recipe Trail
. Scan a QR code with your smart phone or receive a web address for a special holiday cookie recipe that has become an Evans family tradition. As an extra bonus, during the first two weekends in December, the one and only
SANTA CLAUS
will be there from noon to 4 p.m. on both Saturdays and Sundays! Come on out to Hendricks County to enjoy one of the most enduring traditions of the season with your kith and kin. Find the perfect tree -- and so much more -- at Evans Whispering Pines Christmas Tree Farm.