Oohh, you just don't know how excited I am about the Thrifty Gypsy opening in Brownsburg, IN.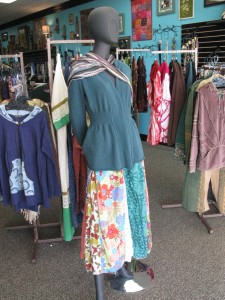 The owners say it is the place for "New and Second Hand Treasures." I think that with new items as well as handmade items, it's more than a resale shop, although you might just find some treasures that remind you of your childhood there. Located on Northfield Drive, this new shop is a hybrid boutique because you can find new clothing and accessories for that gypsy (or hippie) in your soul as well as gently used clothing and jewelry. Moms will be happy to see that children's clothing is included in the selection as well. The owners are Brownsburg residents, Tom and Kristi Cummings. But the shop is a family affair, and all were there for the grand opening and ribbon cutting, Oct. 25. Daughter Amanda and her husband Matt are full-time employees handling daily operations and marketing. Another daughter, Jessica, and her husband Ty are helping too, with shop and display design. And there's a lot to display. Besides the clothing and accessories, you'll find treasures for your home – in any décor from primitive to retro style! In a nod to the time of year, there is a big display of seasonal and holiday items from ornaments, wreaths, hanging decorations and tabletop décor.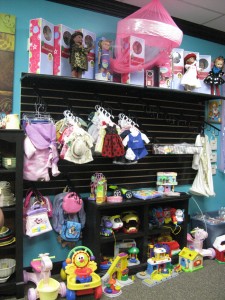 However, one of the best little sections, in my opinion, is tucked in the back corner, an area I will call the "Play Room." There are lots of toys, but there is a wonderful selection of handmade doll clothes. Now, if you have a daughter or granddaughter who has a special 18" doll (that has special stores dotted around the country), then you know
what a find this is. The outfits are just that – little coats with hats and purses to match, party dresses complete with all the fru-fru a little girl would love. There was even a blue and white sports outfit inspired by a certain football team the day I visited! But you see, that is the adventure in little shops like these. There is always something different and new and beautiful – a treasure to bring home for yourself or someone you love. That's why I love to see them popping up in Hendricks County. Chief Gypsy Kristi has apparently long been a gatherer of treasures for years, and now she's sharing them.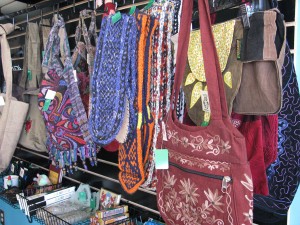 Plus, everything is reasonably priced – that's the thrifty part. Gypsy Amanda said the shop will begin taking appointments for anyone wishing to offer something for sale. Nothing is sold on consignment. They are especially interested in handmade items so take note talented artisans and crafters. Remember though, it is the shop for
thrifty
gypsies. The gypsies are interested in finding out what people want, so if you are looking for something in particular, they'd like to know about it – because they will try to help you find it. Amanda said they wanted a shop that would "convey the Bohemian lifestyle with flair and style" and she thinks they have treasures for all ages. No matter if you are looking for clothing, accessories, children's toys or home décor, you might just find it at the Thrifty Gypsy. And you know what, you might just find that one thing you weren't looking for – but now realize was supposed to go home with you. Go Bohemian for a spell, let the gypsy in you ramble over to Brownsburg and see what you might find… you just never know! In fact, in a whisper, Amanda said, they have a special going until the end of November – if you mention you read about them in our blog, you'll be rewarded with $5 off any $25 purchase…just another way to be thrifty!