We asked what people would like to learn more about in
Hendricks County, Indiana
, and the topic of history was a very popular response. With that in mind, I went on a quest to learn more about the Indiana historical markers within the county. I knew history buffs love visiting these throughout the country, but I soon learned that visiting all six markers in Hendricks County makes for a nice inexpensive day trip that is both educational and fun for all ages. Here are the first three historical markers in the order in which I suggest visiting them. We'll tackle the second three markers in a post next month.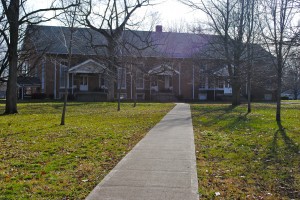 Western Yearly Meeting House
Erected in 1972 by the Guilford Township Historical Society, the
Western Yearly Meeting House marker
is located at the intersection of Ind. 267 and U.S. 40 in
Plainfield
, right in front of the
Western Yearly Meeting of Friends Church
. The church is located at 203 S. East St., but the marker itself is on the northeast corner of the property, right along U.S. 40. Quakers were instrumental in settling and establishing Plainfield (thus the mascot of Plainfield High School), and the Western Yearly Meeting of Friends was
organized there in 1858
, with the church being built along Main Street. The Meeting House still serves as the site of the annual gathering of the Religious Society of Friends.
While you're there:
 Stop in for a bite to eat at
Sal's Famous Pizzeria
, 350 E. Main St., Plainfield, and dessert at
Sweetheart Cupcakes
, 111 S. Vine St., Plainfield.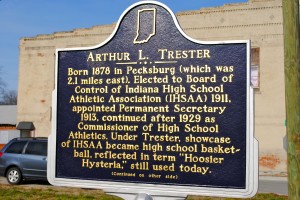 Arthur L. Trester
This marker went up in 2007 thanks to the Indiana Historical Bureau and Donald D. Stuart. It's located at the intersection of Pearl Street and Railroad Avenue in the small, rural town of Amo. The best way to find it if you're not familiar with Amo is to type in 4964 Pearl St., Amo, in your GPS and then walk a block south once you arrive. As a sports fiend,
this marker
interested me a great deal. It commemorates Arthur L. Trester -- born in nearby Pecksburg -- who served in a variety of capacities involving Indiana high school athletics including as Commissioner of the Indiana High School Athletic Association from 1922 to 1944. Under Trester's guidance, the IHSAA made high school basketball its crown jewel, coining the term "Hoosier Hysteria." Trester is in the
Indiana Basketball Hall of Fame
and the
National Basketball Hall of Fame
.
While you're there:
 Grab a slice at
Amo Pizza
, which won the
TourHendricksCounty.com Pizza Playoffs
in March. It's located in the back of the Amo General Store, which your GPS led you to. If you took my previous tip and ate at Sal's in Plainfield and you're not hungry, take a stroll on the nearby
Vandalia Trail
, a former railway converted into a rustic trail by the
Hendricks County Parks Department
.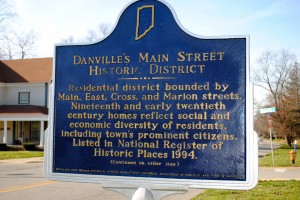 Danville's Main Street Historic District
Erected in 2000 by the Indiana Historical Bureau, the Main Street Historical Association of Danville and the Town of Danville,
this marker
is located at 260 W. Main St., 
Danville
, at the intersection of Kentucky and Main streets. This marker notes the area, just west of downtown, that was part of the original 1824 plat of Danville. The town's prominent citizens lived in this residential area bounded by Main, East, Cross, and Marion streets, and several of those late 19th century and early 20th century homes can still be found there.
While you're there:
 Visit
Downtown Danville
, just two blocks east of the marker, where you'll find great restaurants, attractions and shops such as the
Mayberry Cafe
, the
Royal Theater
 and
Carla's Creations and Gifts
. Stay tuned for my quest to find the other three historical markers in Hendricks County!