Continuing our tour of the six Indiana historical markers located in
Hendricks County
, we have traveled from
Plainfield
to Amo to
Danville
. (You can read Part 1 by clicking
here
.) As it turns out, Danville is the perfect spot to finish up, as the final three historical markers are located there in the county seat.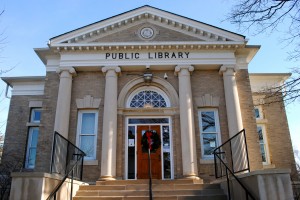 Danville's Carnegie Library
The marker for
Danville's Carnegie Library
went up in 2001 and was installed by the Indiana Historical Bureau and the Danville Junior History Club sponsored by the
Danville Public Library
. It is located at 101 S. Indiana St. in Danville. Steel magnate and philanthropist Andrew Carnegie funded the construction of a number of educational facilities, including 1,679 libraries. Construction began on Danville's Carnegie Library in 1902, and in 1903 it was dedicated as the Danville Public Library, containing about 1,000 books. The site is still home to the Danville Public Library, with additions in 1979 and 1999 nearly doubling its space.
While you're there:
Check out the Danville Public Library's
calendar of events
and see if there is something going on that interests you. My daughters both love the library and often participate in arts and crafts and other activities there.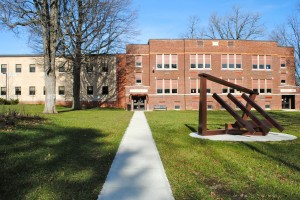 Central Normal College
The
Central Normal College marker
was erected in 2001 by the same group that installed the marker for Danville's Carnegie Library. It is located on Main Street, right in front of the Danville Police Department and Danville Town Hall. Those using GPS will want to program 49 N. Wayne St. in Danville, and that will get you to Town Hall.
Central Normal College
was a private school that was used primarily to educate and train teachers. It was relocated from Ladoga, Indiana, to Danville in 1878 until it was sold to the Methodist Episcopal Church. In 1947, it was renamed Canterbury College and remained in operation until 1951. More than 75,000 teachers were educated there. Among Central Normal's alumni was
Samuel Ralston
, who later served as governor of Indiana and as a U.S. senator.
While you're there:
Try one of the scrumptious pastries at
Bread Basket Cafe & Bakery
, located at 40 S. Tennessee St., right across the street from the Speedway gas station.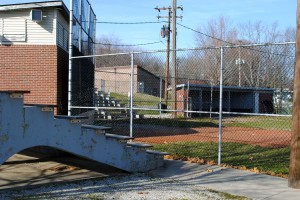 Samuel Luther Thompson
The
marker celebrating
the life of Samuel Luther Thompson is located in Danville's Ellis Park -- 600 E. Main St. -- right outside the Danville Little League baseball field, not coincidentally named Sam Thompson Field. It was installed in 2006 by the Indiana Historical Bureau and the Thompson and McPheeters families. Born in Danville in 1860, Thompson was educated at Danville Graded School and then played professional baseball for the Detroit Wolverines, Philadelphia Quakers, Philadelphia Phillies and Detroit Tigers. An outstanding batter and fielder, Thompson entered the
National Baseball Hall of Fame
in 1974. He sported a
.331 batting average
over his 15-year career and smacked 126 home runs. On May 7, 1887, Thompson became the first major leaguer to hit two bases-loaded triples in the same game.
While you're there:
Stretch your legs at Ellis Park
and walk off all that food you've eaten at the other stops!
As you can see, history abounds in Hendricks County. What other historical markers would you like to see here?