Some culinary creations are almost too pretty to eat. That is definitely the case for the edible works of art made by Presley Pullan of Brie & Bartlett in Brownsburg!
What started as a desire to raise funds for a local animal rescue has turned into a thriving business in just a few short months.
How It Began
In February 2021, Pullan decided to create charcuterie boxes for a Valentine's fundraiser to support a local animal rescue. With a little help from social media, she had raised enough to save an entire feral colony of cats in just two hours. 
She knew she was on to something and believed this could become a viable business venture. The Hendricks County community was literally hungry for her impressive edible creations. 
She continued to hone her skills with inspiration from YouTube, TikTok and Instagram and then assembled an impressive grazing board for her husband's family in England. Fueled by the praise she was receiving and with a bit of trepidation, she took the leap and signed a lease for kitchen space in a suite behind Best Friends Coffee & Bagels just before Halloween. 
She started taking pre-orders and in just one week she had earned back her initial investment. 
Charcuterie Boxes  
Pullan caters to parties of varying sizes with beautifully arranged charcuterie boxes. She utilizes a variety of quality meats, cheeses, fruits, nuts, pickles, olives, preserves, crackers and macarons to create her portable feasts. 
Each box is as unique as the next as Pullan assembles them based on customer preference and current availability of items. Her favorite cheese, brie, is often the centerpiece of each box.
Her Bijou Box is meant for one and the Date Box is geared for two. I decided to purchase a Date Box and do a little sampling of my own, and I can attest that I actually got four meals out of it! 
These hearty boxes are packed full and can easily constitute a full meal.
If you are looking to feed a small gathering, the Friday is Forever Box serves 3-6 or the popular 7Ate9 Box (as you may have guessed) feeds 7-9 people.
If you want a great deal, opt for the $50 Friday Box (can only be ordered on Fridays). In an effort to prevent food waste, Pullan creates the $50 Friday Box using portions of cheese and other items that are still perfectly good but just are not usable on her full grazing boards.
Dining Space
Take your charcuterie box to go, or grab a few friends and nibble away in Brie & Bartlett's intimate dining space. Pullan has converted a small suite at 1060 E. Main St. into a tranquil dining space.
It is the perfect setting to gather with a few friends, get cozy with your significant other or simply enjoy some solitude while you feast on a made-to-order charcuterie box.
Check the Brie & Bartlett Facebook page to find out when the dining space is open.
You can even reserve the Brie & Bartlett dining space for a private party of 15-20 guests.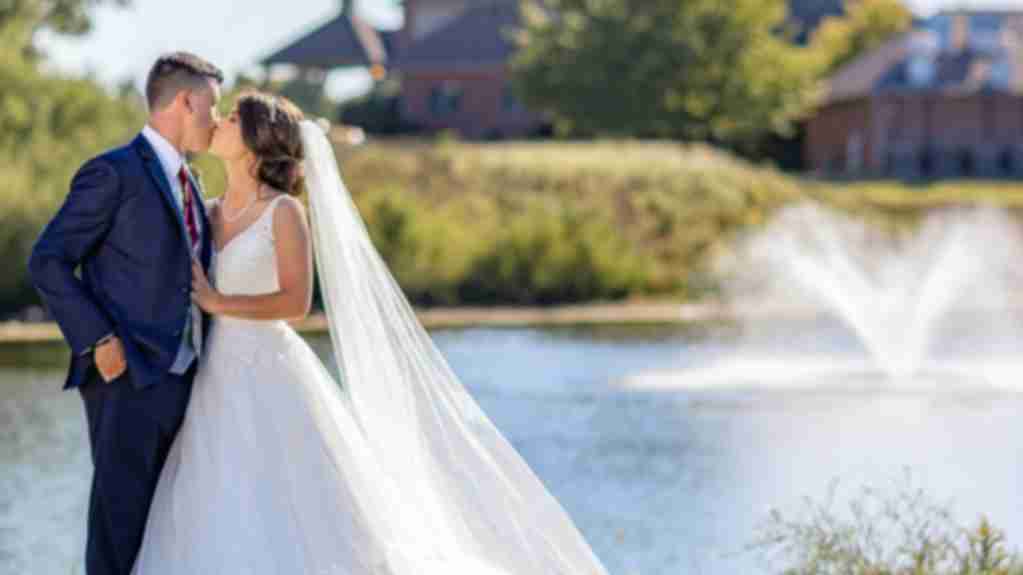 Free Wedding Guide!
Get your insider guide to all things Weddings in Hendricks County by ordering your FREE Wedding Guide.
Grazing Boards and Tables
When you are looking for an elegant food display that is sure to impress guests, order a Brie & Bartlett grazing board or a full grazing table. Pullan works with her customers to accommodate dietary preferences as well as themes and color palettes to create a one-of-a-kind, elegant setup.
The presentation goes a step above the grazing boxes, with an array of specialty meats, cheeses, and other edible delights displayed on beautiful wooden boards in a variety of sizes. Just pay a small rental fee for the board as well as a refundable deposit, then don't forget to return the board after your gathering.
The 36-inch board feeds up to 65 people and is a feast for both the mouth and the eyes.
Boards can be shrink-wrapped for pick up, or Pullan will deliver and set them up at your home or venue for a small fee.
Planning a wedding, bridal shower, family reunion or any other special occasion? Have Brie & Bartlett come to your venue and set up an impressive grazing table that will have your guests talking about the food spread long after they have gobbled up every delicious morsel.
Brie & Bartlett
Address: 1060 E Main St. #417
Brownsburg, IN 46112
Phone: (317) 513-1049
Email: orders@brieandbartlett.com
Check their Facebook and Instagram pages for hours and more photos of their elaborate charcuterie boxes and grazing boards.