It's time to start getting your competitive juices flowing because on Saturday, June 22, it's Game On! at the Historic
Hendricks County
Courthouse Square in
Danville, Indiana
.
I was recently perusing Visit Hendricks County's calendar of
things to do
to get the kids out of the house so they stop climbing the walls and driving me crazy (is it bad that I already miss school being in session?) when I stumbled across the
Game On! Downtown
event. The
Downtown Danville Partnership
is unveiling this new family-friendly activity, and if you enjoy competition and board games, you won't want to miss the chance to play some of your favorite games – with larger-than-life game pieces. "This event is all about play and is geared for kids, but it will appeal to anyone who is a kid at heart," said Laura Parker, Game On Committee Chair. "If you take some of these games that you loved from your childhood, bring them out of the house, super-size them and add some music and food, you've got the perfect recipe for a gigantic good time in Downtown Danville." For me, this is a dream come true. As a former athlete (you know, 30 years and 50 pounds ago), I love competition. And as a parent of two young daughters, board games are a common source of entertainment in our family. Combine the two, and nothing's better than obliterating my 5-year-old in a game of checkers.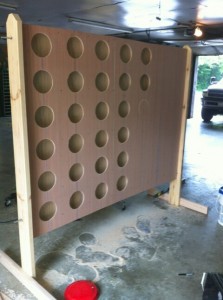 So on the 22
nd
, instead of playing games at home, I'm taking my kids to Game On! After I crush my youngest at a game of checkers where the game pieces are nearly a foot in diameter, I'll turn my attention to trouncing my 7-year-old in a 6-foot-tall game of Connect Four™. While she's picking up the pieces of her shattered self-esteem after that crushing defeat, it's back to permanently scarring the psyche of my 5-year-old. I'll even let her pick the game:  Jenga™, KerPlunk™, Dominoes, Tic-Tac-Toe, Scrabble, bowling, ring toss, ostrich egg spoon races...I don't care.  I'm in it to win it, baby! I have to save time for the Jumbo Jam™, too.  It's an 8-foot tall inflatable with a basket to shoot or toss balls into. I'm going to look like Michael Jordan as I slam-dunk a basketball over my kids. I can't wait! There's a Monkey Barrel bounce house, too, and when I get hungry or thirsty from maintaining my tremendous winning streak over elementary school children, I can head to the Taste of the Square food court, where downtown merchants like
Diggity Gourmet Dawgs
and
Carla's Creations
will have goodies available for purchase. And as if I need any more reason to attend, Game On! Downtown is a free event! It won't cost me a dime to publicly display my prowess at board games against my children! In case you're suddenly concerned for my kids, don't be. Both of my girls can read and have been looking over my shoulder as I write about this fantastic event, scoffing at every one of my boasts and reminding me of all the games they routinely beat me at. My youngest even gave me her best game face and growled, "It's Game On, Daddy!" (I don't know where they get their competitive nature like that. Must be from their mother.) See you on the Square on June 22!