I recently made my first visit to
Chateau Thomas Winery
in Plainfield, Indiana. As a first-timer, I decided to bring along my parents to attend a tasting with me. I'm definitely not a wine expert, but I do enjoy wine tastings and trying new wines.  My mom's birthday is coming up, so we decided it was a good reason to celebrate. Chateau Thomas Winery has been making award-winning Indiana wines for more than 25 years.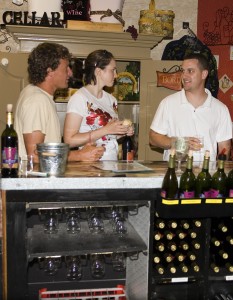 We walked into Chateau Thomas and up to the wine tasting bar, where we were given a tasting menu and asked to circle our choices of wines we'd like to taste. We opted to try wine tastings for $5 a person.  What a deal! We stood at the bar, while Carey (who works at Chateau Thomas) explained that he would be pouring the samples for us and would explain a bit of background about each wine (the history of the wine, the aroma of the wine and taste and what foods to pair with the wine). Carey did a fantastic job walking us through the tasting and answering any questions we had about the different wines. Carey also told us that people from all over the world visit Chateau Thomas Winery in Plainfield. It's close to the Indianapolis International Airport, and there are several hotels within walking distance.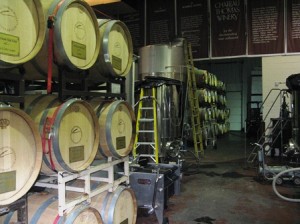 It was hard making a decision on what to try, but I finally decided  to go with four white wines and one red wine.  A top white wine favorite of mine was the "Classic Chardonnay," which is described on the tasting menu as "Medium straw colored wine with medium body. Aromas of tropical fruit such as pear, pineapple & mango." I also enjoyed the red wines, especially, the "Chateau Big Red", which is described on the tasting menu as "A complex blend of 5 varietals that celebrates the Academic and Athletic excellence of Indiana Universities." My dad likes red wines and also enjoyed the "Chateau Big Red." All of the wines are available for purchase at Chateau Thomas Winery. Remember, it's holiday gift buying time.  A couple at the tasting bar told us they were buying bottles of wine for family members and others on their holiday list.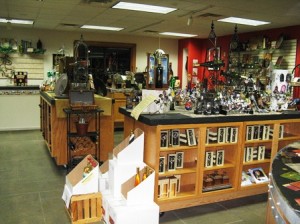 We spent about an hour at the tasting and in-between tastings (there were other customers tasting wines with us), we also walked around the large gift shop, which is located within the tasting room. In the gift shop, there are wine glasses, corkscrews, T-shirts, aprons, gourmet foods and any gift for the wine lover you know. They occassionaly offer tours of the winery. Carey also told us about the winery's popular selection of "Slender Series," which is "America's first naturally sweetened wine with no carbs." He said the Slender Series is extremely popular and available in white, blush and red. We had a wonderful time at the tasting, and I decided to take a souvenir with me. So I purchased a bottle of one of my favorites at the tasting, the Classic Chardonnay ($11.99 per bottle). This experience was such a fun way to celebrate a birthday and learn about wines. I'm looking forward to planning my next trip to Chateau Thomas Winery in Hendricks County. Maybe I'll take a group of friends, and we'll go out to dinner afterward.
Just the details...
When you go: Chateau Thomas Winery is located in Hendricks County at 6291 Cambridge Way, Plainfield, Indiana. Phone: (317) 837-9463 or toll-free, (800) 761-9463. Note: They do have additional locations in Bloomington, Fishers, and Nashville, Indiana.  Check the website for directions, events and more information.
Airport bound? If you have time, stop at the winery to pick up a few souvenirs on your way.  Chateau Thomas Winery has visitors from all over the world and Indianapolis International Airport is a short drive from the winery. There are also many hotels located near the winery.
First-timer tips: Bring a group of friends or family to attend the tasting. It makes it more fun to compare notes about what wines everyone enjoyed.  Don't be shy about asking questions. Chateau Thomas Winery staff are happy to answer any questions about the wines. Celebrating something? Take a group of friends and family and celebrate at Chateau Thomas Winery. The more, the merrier!
Wines I tasted: 2010 Un-Oaked Chardonnay, Dry Gewurztraminer, Classic Chardonnay, Chateau Big Red, and 2008 Riesling.
Do you have a favorite Chateau Thomas wine? I'd love to hear your recommendations. Leave me a note in the comment section below.