Let me start off with full disclosure. I'm a native Hoosier who somehow did not become a racing fan. So, you may be wondering, why is she writing about the
Mac Tools U.S. Nationals
at
Lucas Oil Raceway
. Yes, I find it shocking as well. When first approached about doing a story on the NHRA's signature event, I wasn't sure. Do they really want me covering a topic I know nothing about? But after some thought, I decided it would be a good experience for me to try something out of my comfort zone. Who knows? I might actually discover that I enjoy racing.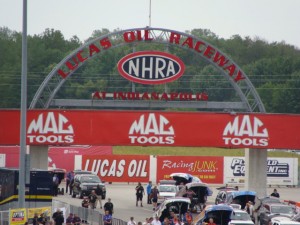 Before attending the race at Brownsburg's 
Lucas Oil Raceway
, I asked others who were familiar with the sport, what they thought of the race. As they began to describe details, I found myself excited about seeing this race. It appealed to me that I wouldn't have to watch the cars go round and round. It would be a straight shot at high speeds. So, I grabbed my ear plugs and camera and headed out to this Hendricks County drag strip for a new experience. So, did it change my mind about racing?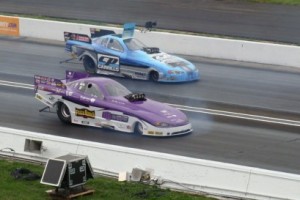 Yes, it did. I actually enjoyed it. I realized that the only type of auto racing I had ever seen was on the oval. I think the reason I disliked it was that I could never tell who was in the lead. But drag racing is so different. Each race only lasts seconds and you instantly know who won and their speed. I enjoyed the fast pace.
When I first arrived, I walked around to take in the atmosphere. Racing displays, merchandise and "fair" food was everywhere. The activities surrounding the drag strip are an event in themselves. Nitro Alley had several games and interactive experiences for the whole family.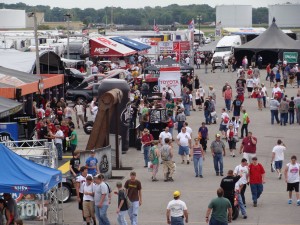 I then went up in the stands to catch the action. The weather was perfect. Overcast with a nice breeze. I watched both the super stock cars and the funny cars. It was exciting seeing how fast these cars zoomed by me. The cars are very loud, so I was glad I had my earplugs. Check out my video from Friday's experience: [youtube]http://www.youtube.com/watch?v=pf2hW7u-_BU&list=UU8x_r855M4mdwKchMOG5J1w&index=1&feature=plcp[/youtube] I found this is a sport that you can enjoy no matter how much or how little knowledge you have. I saw a lot of families enjoying this event together, and you can bring in small coolers (no larger than 14X14X14 and no glass bottles or alcohol) to cut down on your food/drink costs.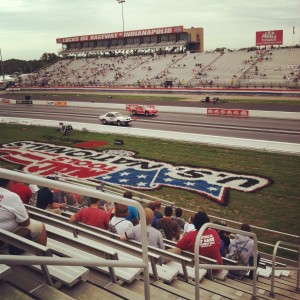 There is still time to head out to Lucas Oil Raceway, the
U.S. Nationals
continue through Labor Day. So, grab the family and the earplugs and head on out. This is an affordable event for families.
Tickets
for children ages 6-12 start at $10, and admission is free for children 5 and under. Also, follow this 
link
to take advantage of a special promotion, a free junior ticket (ages 6-12) for every adult ticket purchased.