One of my favorite things to do during the warm-weather months is meet a friend for an evening walk. After a long day of sitting at a desk, I love getting the chance to socialize, breathe some fresh air and exercise at the same time.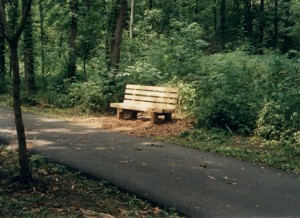 Whether you're looking for an easy stroll, a scenic hike, or a day out with your family, you'll find hundreds of acres of green space in every corner of
Hendricks County
. Take a deep breath and stretch your legs at these five must-see spots.
1.
Hummel Park
, Plainfield:
A constant hubbub of activity and entertainment graces Hummel Park from sun-up to sundown during the warm-weather months. 2.5 miles of trails loop through the park itself, but if you're up for a longer trek, Hummel Park is just one component of
Plainfield's 540 acres of connected parks and trails
. The town boasts more than 20 miles of pathways and sidewalks based on a linear system along White Lick Creek, making it one of the most walkable towns in Hendricks County.
Tip: Pack a lawn chair and check out Hummel Park's free summer concert series, which kicks off Saturday, June 23 at 6:30 p.m.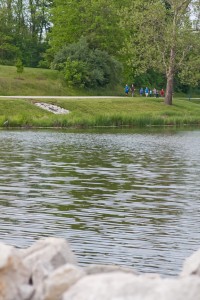 2.
Avon Town Hall Park
, Avon
: A great place to take the kids fishing or play a game of disc golf on the 18-hole course, Avon's Town Hall Park also features both paved and unpaved trails. The 1.5 miles of paved trails wind around the lake, through the woods, and can take you to the Avon-Washington Township Library.
3.
Ellis Park
, Danville
: One of the first established parks in the county, this centrally located park features multi-use walking trails that connect to Gill Family Aquatic Center, Playscape playground, wooded picnic areas and Indiana's only public clay tennis courts. Walkways also connect Ellis Park to Blanton Woods, where you'll find more than two miles of all-terrain trails.
Tip: Kids will love crossing the suspension bridge that leads to the southern picnic shelter near the tennis courts.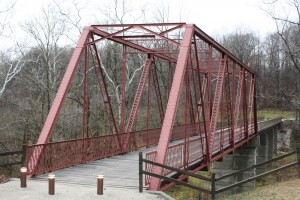 4.
McCloud Nature Park
, North Salem
: If reconnecting with nature is your goal, McCloud should be first on your destination list. 6.5 miles of well-marked trails wind through this park, but you'll want to leave the strollers behind. The park's wooded paths are unpaved. Rest your feet while you do some bird watching from inside the
Nature Center
, or cool off by dipping your toes in Big Walnut Creek.
Tip: Bring a picnic dinner and stay until dark for some stargazing during the park's summer astronomy program.
5.
Vandalia Trail
, Amo and Coatesville:
A part of the National Road Heritage Trail that pays tribute to the road that made westward settlement possible, you'll find Vandalia Trail in the rural southwest corner of Hendricks County. This three-mile, multi-use trail connects Amo and Coatesville and will ultimately be a part of a 150-mile trail stretching from Terre Haute to Richmond. The natural surface is great for hiking and biking, and equestrian riders will appreciate the dedicated parallel trail for their four-legged travel.
Tip: Refuel with a slice (or two) at Amo Pizza Shop, the champion of this year's TourHendricksCounty.com Pizza Playoffs.
Find more ways to get outside and enjoy the summer weather at our TourHendricksCounty.com
visitor's center
.