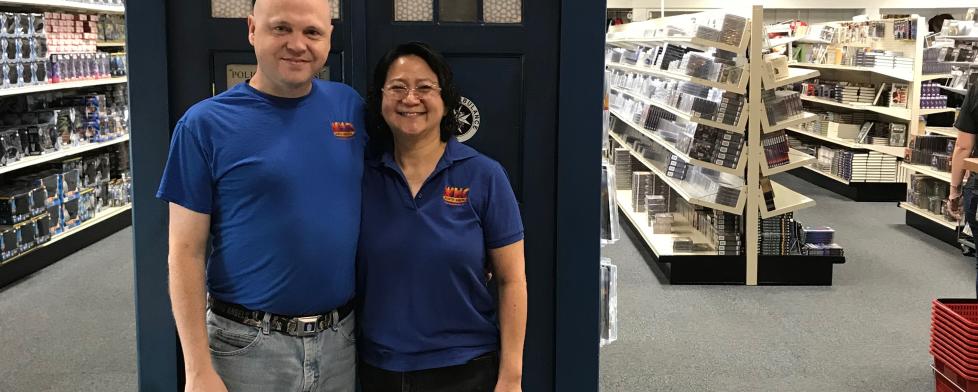 I'm going to be honest. I've never seen an episode of Doctor Who (ducks head). But when I visited Who North America to chat with Jany and Keith Bradbury about the Third Annual Doctoberfest (a Doctor Who-themed fall festival) coming up, I decided I should give the show a try. Because this fall festival sounds like a blast.
Doctoberfest will take place from 11 a.m. to 6 p.m. Saturday, Oct. 27 at Who North America, 8901 S. State Road 67 in Camby.
If you are anything like me, at this point you might be asking yourself: Who (or what) is Doctor Who? 
What is Doctor Who?
Doctor Who began as a British sci-fi television program featuring a time lord called "the doctor" who hails from the planet Gallifrey and explores the universe on a traveling spaceship called the TARDIS (which stands for Time In Relative Dimension In Space). For a show with such a huge cult following, that's a very basic synopsis.
The show has featured a total of 13 doctors, and a new series of Doctor Who has been produced by BBC America and can be viewed on Amazon Prime.
Doctoberfest
Doctoberfest will feature staples as in years past, such as vendors, music and games. But Jany and Keith work hard to make each year unique, and this year is no different. Here are the top features for this year's Doctoberfest:
Cosplay Competition - While this is standard to Doctoberfest, it's much-anticipated by everyone. This Look-A-Like Competition encourages attendees to create costumes of characters from the show. There will be two categories to this contest. One will be the best look-a-like, and one will be the judge's choice. This competition will be judged by a friend of the Bradburys who is a cosplay guru and teaches classes at GenCon on how to make props. This Judge's Choice Award will be based on the costumes' material and how well-made they are. For the best lookalike, patrons of Doctoberfest will be able to purchase tokens to vote on which costume they think is best. Winners will receive a plaque.

Doctor Who Pumpkin Carving Competition – Competitors can use real or styrofoam pumpkins to design and carve out images from any aspect of Doctor Who. These will also be up for a vote via tokens, and the winner receive a plaque. In addition, details are still being finalized for a Mini-Pumpkin Painting contest.

Balloon Sculpturist – David Ginn and his family will be creating a full-sized TARDIS in the store. It will be big enough to walk through. David's children will also be available to teach you how to create small balloon sculptures.
 
Russell McGee – Russell is an author and an audio engineer for The Big Finish Productions, which is a British company that produces books and audio plays based on mostly cult science fiction properties. The Big Finish produced Doctor Who stories on CD soundtracks when the show was called off the air in the early 80's. Russell will be talking about his work and will be available for autographs. His book Temporal Logbook II will be available for sale.
 
Authors of Red White & Who: The Story of Doctor Who in America – Four of the six authors of this book on the history of Doctor Who in America will be available to talk about their work and sign autographs.
There will be 14 vendors displaying and selling their Doctor Who-themed crafts and products. An Italian food truck also will be on site providing food and can accept cash or credit card. Oberweis will have a booth with samples of their milk.
The Bradburys pride themselves in producing a family-friendly community event that appeals to diehard fans and newbies alike. In years past, 400 to 500 people have attended, and Jany said they expect closer to 600 this year.
So if you're tired of the run-of-the-mill fall festivals, plan to attend this fall festival with a science fiction twist! Whether you're a fan or not, Doctoberfest will deliver the fall fun everyone loves this time of year.