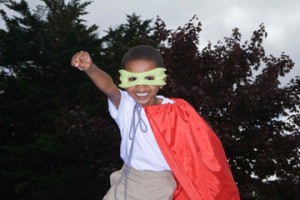 Remember the feeling of having one end of a towel tied around your neck and the other flying behind as you flew around the backyard and wielded your super powers to right the wrongs of the world? Know how you can get that feeling back? And share it with your own children?
Zoom over to Williams Park in Brownsburg, Ind., on Sept. 15 for the Super Hero Trail Dash.
The Super Hero Trail Dash is the inaugural 5K/Walk event hosted by the
Brownsburg Parks and Recreation Department
, although Brownsburg Parks is participating in the
Hendricks County Parks and Recreation Summer Fun Run
program which continues until Sept. 26.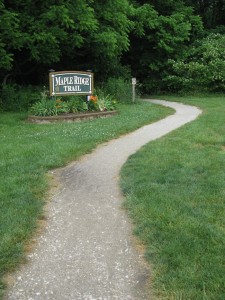 This inaugural Super Hero Trail Dash will consist of two courses, both with obstacles. Don't be too worried, because participants can bypass obstacles of their choice.
The Sidekick Walk 
will be 1-mile long course contained on the trail and grassy areas of the park. Geared toward families, even those pushing a stroller will be able to participate following the bypasses around obstacles. At 10 a.m., the
5K Run
course will begin in the grassy area of the park, but will veer off onto the Maple Ridge Trail. Obstacles will be both the natural rugged terrain and manmade and are entirely optional. However, the course is designed for runners rather than walkers and strollers. The final dash at the end brings runners back into the open grass field of the park. Check out this video below for more information about the event: [youtube]http://www.youtube.com/watch?v=3rgvwDNY7tY&list=HL1344968658&feature=mh_lolz[/youtube] Participants self-select either the run or walk. All participants are required to register and complete a waiver. Anyone 18 and younger needs a parent or guardian to sign the waiver. You can pre-register or sign up that day beginning at 9 a.m. The cost is $10 a person for the Sidekick Walk although children under 4 are free. The 5K Run is $25 a person. Teams of four get one free entry, so team cost is $75. Top finishers will win awards, and each entrant will receive a participation ribbon. The event is not all about the challenge of the courses. It is also about fun. Lora Lacey, recreation coordinator for Brownsburg Parks and Recreation says, "The super hero theme could involve families and older adults as well as the children." And that's the point – it's for everyone.
Participants are encouraged to dress up as their favorite super hero.
In fact, there will be an award for the best dressed! You know that all those latent super powers come to life when Superman steps out in his costume and cape. But don't be limited to the members of the Justice League of America. Create your own version of the super heroes in life – a Super Mom or Super Dad leaping high and running fast
– just like everyday life!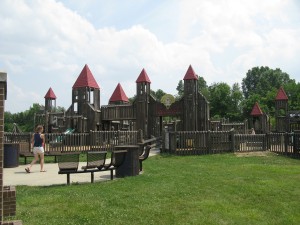 Take advantage of all Williams Park has to offer like the Blast Off Playground and basketball courts. Bring a picnic lunch. Show your friends and family what being a Super Hero is all about – being a role model for a healthy, fun and fit lifestyle – here in Hendricks County!
Super Hero Trail Dash
When: 9 a.m., Saturday, Sept. 15.
Where: Williams Park, 940 S. Locust St., Brownsburg, Ind.
Information or to pre-register: Phone: 317-858-4172; Website; send an e-mail to play@brownsburgparks.com; or visit the event's Facebook page.
Cost: Sidekick Walk: $10 per person, kids under 4 are free; 5K Run: $25 per person; Teams of 4 are $75 (one free entry).
Tip: Bring your own water.