How often do you get to play flag football with or against former professional football players? A first-year, local fund-raiser organized by former Indianapolis Colts quarterback Jim Sorgi will offer that and so much more right here in
Hendricks County
as he raises money for his son's travel baseball team, and everyone is invited to participate, get autographs or just enjoy the fun.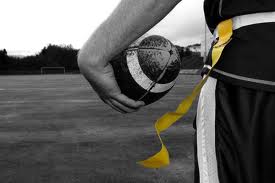 The
Indiana Hurricanes
8U baseball team already has commitments from Sorgi, Gary Brackett, Ryan Diem, Eric Foster, Marlin Jackson, Jeff Saturday, Justin Snow, Hunter Smith, John Standeford, Joe Staysniak and David Thornton, as well as former Indiana Pacers player Fred Jones to not only appear at the Hurricanes Celebrity Flag Football Tournament fund-raiser, but play, coach or serve as captain on every team that signs up. And this incredible event scheduled to begin at 10 a.m., Oct. 19 is happening at the Danville Youth Football Field behind Ellis Park. Sorgi, who coaches his son's 8U team, said he and his wife Lana organized the event to take the burden off some of the families whose boys wanted to play on the travel baseball team. And he wanted to keep the event local because most of the Hurricane baseball players live in Hendricks County or on the west side of Indianapolis. They also hoped to benefit small businesses in the county, Sorgi told me. "It has been amazing to me how many places have been so willing to step up and help," he said. "I don't want monetary value to dictate whether a kid gets to play a sport they love. So, we hope to make this an annual event right here in Hendricks County to help our team and the entire Hurricanes baseball organization." The best part is you don't have to play on one of the flag football teams (though they are still looking to fill a few spots) to enjoy the day. This will truly be an affordable, family-friendly event you won't want to miss. Besides, it is open to the public and free for all spectators. You heard me right,
free
to enter! There will be a nominal fee for some of the family activities and food. After all, it is a fund-raiser. Some of the activities include:
A kids zone featuring multiple bounce houses and carnival games in which a $2 wristband can get children all-day play.
Designated autograph sessions in which the Hurricane Baseball team will sell T-shirts that the professional athletes will sign.
Raffles for amazing sports memorabilia including autographed jerseys of Andrew Luck, Reggie Wayne and Jeff Saturday, a Tony Dungy autograph collection, Colts tickets, select gift baskets and more.
Food in the form of $5 meal deals that will include, pizza, subs and wings from Rock Star Pizza in Brownsburg and Pizza Paradise in Danville.
Beer truck provided by Sun King Brewery.
Entertainment from not only the flag football games in which Anthony Calhoun from WISH-TV will serve as the master of ceremonies but also live music with a disc jockey.
Now, if you are interested in rubbing elbows or say trying to catch or pick off a pass from Sorgi or any of the other former players, they are still accepting team entries. Teams must consist of 10 players who are 18 or older. Entry fee per team is $300 and includes a cinch bag, T-shirt and other goodies. To register or for more information, click
here
. When will you ever get a chance to play football with or against former Colts players? This has got to be a dream opportunity for some of you out there. Sorgi told me he knows the guys he has invited will have fun. They just need people to come and support the cause. "We are getting guys who contributed to some of the Colts best years," he said. "Trust me, these guys are competitors, so at some point those competitive juices will begin flowing again, and they will want to win these games." How can you not want to witness or be a part of that?