There is something nostalgic about living in a home that you grew up in. For Randy Simpson, the place he calls his "second home" is Lucas Oil Raceway – spread out over 267 acres – featuring a host of amenities including a world-famous quarter-mile drag strip, a .686-mile oval track and a challenging 15-turn road course that stretches 2.5 miles.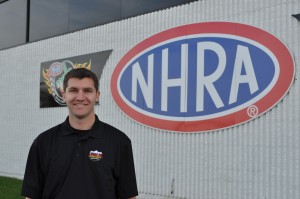 Late last year, Simpson was hired to serve as the facility's general manager. Recently, I caught up with the busy 25-year-old to find out his plans for not only this year but the future as well. The opportunity to oversee operations at the track is the latest achievement for this young drag racer, who shared with me that he first visited Lucas Oil Raceway for an NHRA U.S. Nationals event with his family at the age of 3 – from his home in Streeter, Ill. "Around where we lived (in Streeter, Ill.), there were no other NHRA events close by," says Simpson. "My dad brought me here in 1991 for the U.S. Nationals, and we've made it back every time for 23 straight years…it was a second home growing up." From the early childhood experience as a race fan, Simpson competed in junior dragsters from 1996 to 2006. During that time, he said they made it to every race traveling 225 miles each way. Among the highlights, Simpson captured the Junior Nationals in Denver, Colo., in 1997 and won a $5,000 NHRA scholarship. Soon after, he earned a degree in Business Administration from Illinois State University and began his career in motorsports management. Since 2007 until just recently, he continued to compete as a driver with an NHRA stock eliminator car. Off the track, he completed an internship and served in a number of other marketing and management positions at the Route 66 Raceway and its sister facility, Chicagoland Speedway in Joliet, Ill. Although the responsibilities of his new job has made it tough to continue racing, Simpson says proudly that he still has the car, the membership and NHRA license to compete as a driver. "I've been fortunate to see racing from every type of seat…and that's very important to see and understand what our fans are experiencing. At the same time, it's good to have the ability to step outside of that and make decisions (from a management standpoint)," adds Simpson, noting that he is looking at plans to expand and improve the facility in the years to come.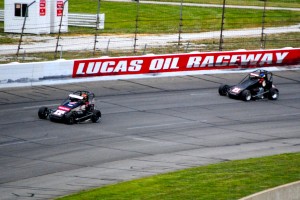 Simpson says the 2014 season promises to be exciting and that Lucas Oil Raceway is going to be "a very busy track" from now through October with many events such as the 69th Annual Visit Hendricks County Night Before the 500 in about a month through the U.S. Nationals over Labor Day weekend. "I'm proud of the history of our facility, and the careers that have started here. Mario Andretti on the road course and A.J. Foyt on the oval to Jeff Gordon in the Saturday Night Thunder Series. And, of course, everyone from Don Garlits to John Force to many others on the drag strip." While the big races get all the publicity, Simpson said Lucas Oil Raceway must continue to support all events even the ones that seemingly go unnoticed to most race fans. Events such as the weekly street legals that any person can enter called Wild Wednesdays to the bracket races and even the one-day festivals such as the Miracle Ride in June are just as critical to Lucas Oil Raceway remaining a destination for motorsports fans.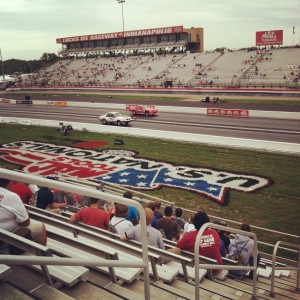 "We have so much activity going on through the week and the weekend involving three different tracks and so many fans who are passionate in telling you that it's their 10th, 20th or 50th year in a row in coming out here," he said. "The U.S. Nationals is one of those events that should be on every race fan's bucket list, but whether it's that one or another event, we hope that maybe this is the year many fans start a streak of their own to come see us." If Simpson's experience is any indication, it's a good bet you'll feel right at home.