Patience is not one of my virtues. The
Brickyard 400
 is coming to the Indianapolis Motor Speedway on July 28, but that seems like a long time to go without watching things on wheels go fast. Fortunately,
Hendricks County
offers a lot of racing in July at
Lucas Oil Raceway
in
Brownsburg, Indiana
, to satisfy my need for speed.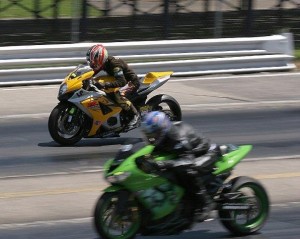 No Hatin' Drag Racin' Organization
The Indiana family-owned and operated 
NHDRO
is coming to Lucas Oil Raceway for their
Mid Season Sizzle
from July 12-14. Have you seen these guys fly down the drag strip on their motorcycles? I've come to the conclusion that they're certifiably insane. Nevertheless, they're a blast to watch. A $35 weekend pass is good for all three days (kids 10 and under are free), and you can watch nine classes of motorcycles reach mind-blowing speeds on two wheels. "Classes are competitive and winnings are substantial," said Diana Larkin, managing partner and CFO of 
Del's Performance Cycles
 in Brownsburg, which supports and services many of the motorcycles in this event. "Bikes come from all over the Midwest to compete because the NHDRO has established itself as one of the best. If you have a bike, they have a class for you to enter. They put on a good show on and off the track, and family activities are happening throughout the weekend."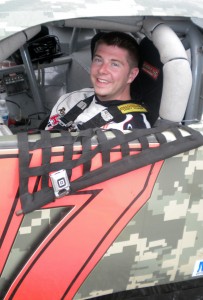 Rusty Wallace Driving Experience
Do you find yourself screaming at your favorite racer, telling him or her that you could drive better? I will admit to occasionally offering Dale Earnhardt Jr. driving tips through my television that he'll never hear, but that send my kids and neighbors running for cover. If you're an armchair driver like me, or you'd just like to experience the thrill of piloting a ridiculously high-powered car around a short track, the
Rusty Wallace Driving Experience
is for you. It will be at Lucas Oil Raceway July 12-14 and again July 19-21.
Ericka Bethel
gave her husband the gift of the Rusty Wallace Driving Experience last year. No sense in reinventing the wheel here. Take a gander at
her post about the experience
to learn more.
CRA JEGS All-Stars & Super Series
The
Champion Racing Association
 powered by JEGS is coming to Lucas Oil Raceway on July 26 for their All-Stars and Super Series. 19-year-old Travis Braden is building on his 2012 Rookie of the Year campaign, recently
taking over the lead
in the Super Series standings. Can he maintain his points lead at Lucas Oil Raceway? Meanwhile, Cody Coughlin is trying to fend off Dan Leeck and a whole slew of other All-Stars Tour drivers who are nipping at his heels in the standings. Both series will hold a 100-lap feature race, and you won't want to miss either one.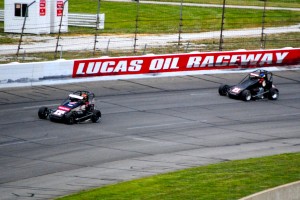 USAC Midget/Silver Crown Doubleheader
USAC sprint cars
are my favorites, so I'm super excited about the doubleheader coming to Lucas Oil Raceway on July 27. The Silver Crown cars are the biggest in USAC, and Jerry Coons Jr.
holds a slim lead
over Brownsburg's Bobby East in the standings heading into the Rich Vogler Classic on the 27th. The midgets are the same cars we see at the
Night Before the 500
each year, and they always provide great racing around the paved track. These are just some of the events offered at Lucas Oil Raceway. For a complete list, be sure to check out the track's schedule by
clicking here
. Let's go racing!