We have some rules in my house, nothing major just the common household standards. One, however, might seem strange to some but is non-negotiable to me. The rule is that this girl does not cook on Fridays. I know weird right? Don't get me wrong I love to cook and feed my family delicious homemade meals but those are for the earlier days in the week.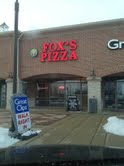 The truth is I kind of grew up that way. I mean Friday night is a fun night, a night to relax after a long week! It took my husband a while to get used to this idea but I think he has finally come around. Luckily,
Hendricks County
is home to some wonderful restaurants so we don't have to go far. A week ago on our search for the perfect Friday evening meal I suggested the new pizza place down the road from us in Plainfield, Indiana,
Fox's Pizza Den
. I had heard talk of Fox's Pizza from several friends in Lafayette who raved about their delicious pizza, but I had to see for myself! Fox's Pizza Den is located right off U.S. 40 in the Saratoga Shopping Center on the western edge of Plainfield. Fox's has been a family owned and operated business for 38 years, so they are no stranger to this pizza game!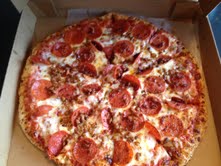 Boasting hand-tossed dough, award-winning pizza sauce and 100 percent real cheese they have all the right stuff. Looking over their
menu
, they have lots of delicious offerings including specialty pizzas, salads and some great looking hoagies. They also have some
great deals
listed on their
website
! We went for the pizza and some bread sticks. Ordering was easy, and I was told my pizza would be ready in just 15 minutes.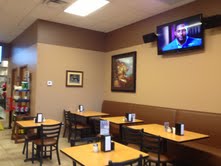 Fox's Pizza has a great dining area with plenty of room for the family and TVs to sit and enjoy your favorite show or game. Don't want to leave the house? Fox's will also deliver! As soon as I arrived, everything was ready. I truly thought of just sitting in my car and devouring the bread sticks but decided my hubby and daughter might like a few. I made it home for my daughter to come racing down the stairs chanting PIZZA...PIZZA. (She was just about as excited as me to try this delicious treat). Fox's Pizza Den was wonderful. With a great crust, favorable sauce and fresh toppings, this pizza was great!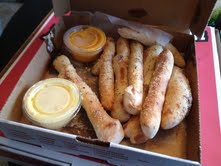 But as much as I loved the pizza, the bread sticks really did it for me. Coated in garlic butter and with the nacho cheese dip they were just what I needed to end my week. Fox's Pizza Den is a must try in Hendricks County. Trust me, you will not be disappointed!