Try as I might, I can't seem to master a true Italian sauce. So, I'm always thrilled to learn about a new, independently owned, small, authentic Italian restaurant. 
This time, I'm sharing one of my favorites with you. All your favorite dishes can be found at Frank's Place Italian Restaurant - 33 S. Washington St., Danville.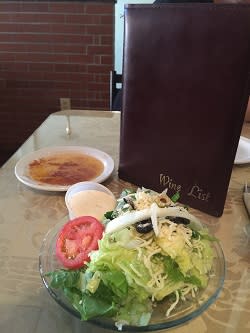 Plus, I'm sure you'll find several new ones.
Frank and Brigette Russo opened this authentic Italian restaurant on Danville's historic Courthouse Square in 1999.
At this family owned and operated restaurant, the sauces and dough are all made in-house. 
They're open for lunch and dinner, 10 a.m.-9:30 p.m., Monday-Thursday and 10 a.m.-10:30 p.m. Friday and Saturday. 
If you aren't sure about a menu item, or you're interested in learning what the most popular dishes are, just ask. The folks at Frank's Place are always approachable -- thanks in part to their open kitchen and service area -- and the staff is always friendly.
I always get a house salad, to start, when we go to Frank's. It's always cold, crisp and perfectly paired with their house-made, freshly baked rolls and garlic oil. 
Popular lunch menu items include the grilled chicken special that is served with a garlic roll and a drink for only $7.99.
Dinner specials include: linguini with clam sauce, grilled sirloin and grilled salmon. 
My boys are fans of the pizza at Frank's Place. The dough is handmade daily -- a difference you can really taste.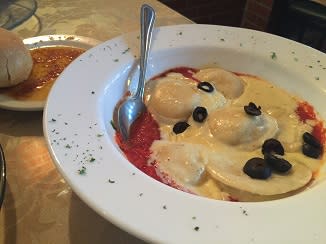 They're not alone in this sentiment as the pizza and calzones at Frank's Place are a constant crowd favorite.
My daughter loves the ravioli. I'm always happy to help her finish her meal. This dish is served with two homemade authentic sauces -- a traditional tomato and a garlic, cheese sauce. It's amazing.
I enjoy going to Frank's Place, not only for the sauce, but also for the atmosphere. It's in a beautiful, brick building and is always nice and quiet that's worthy of a date night, but also very family friendly.
They serve nice portions and their prices are very affordable.
You'll also find a full bar and a really great wine list at Frank's. They also boast a nice coffee bar.
Frank's Place offers carry-out. The cozy. secluded bar area is perfect for having drinks with friends or while you wait for a table or a carry-out order.
Head to Frank's Place in Danville the next time you take the family out for dinner or you're looking for a quiet restaurant for a date night.
I'm sure you'll enjoy this charming, family-owned authentic Italian restaurant as much as I do.