As we turn to a new year on the calendar, many of us strive to improve our eating habits. I'm definitely guilty of setting New Year's resolutions that never seem to make it to Feb. 1! Whether you are a family constantly on the go or someone who travels frequently, eating out is a reality of life. But the dining options don't always jive with your resolve to eat healthier.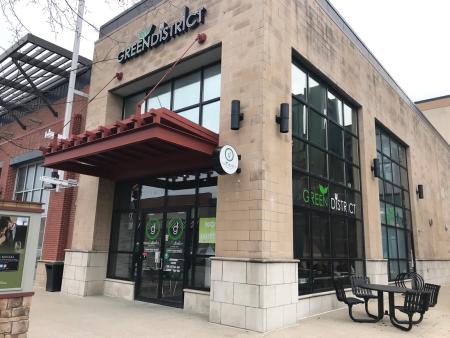 With fast food options serving up greasy, high-calorie fare available on every corner, I was thrilled to learn about a healthier option: Green District Salads in The Shops at Perry Crossing. The Plainfield location opened in August 2020 and is part of a new, small Midwest restaurant chain based out of Louisville. 
Fresh Ingredients
Green District Salads prides itself on a vast array of fresh ingredients mixed and chopped before your eyes to create the exact salad or wrap you desire. There are more than 60 possible combinations when you build your own salad or wrap and all the signature salads can be customized as well. You can try something different every time you visit!
Start with a base of iceberg, romaine, spinach, kale or quinoa, and then order up your favorite toppings to create your own unique salad. Topping options include many traditional salad bar standards: mozzarella, blue cheese, chicken, ham, bacon, croutons and sunflower seeds, to name just a few. But you can also select from some less common fixings such as hearts of palm, beets, grilled asparagus, edamame, shrimp or chow mein noodles.
Salads and Wraps
Green District Salads features 12 signature salads, which can also be made into wraps, for those who prefer not to make so many decisions. 
According to one of the owners, Victoria Bethley, the most popular salads are The Forbidden Fruit (with chicken, sharp cheddar, grape tomatoes, corn, black beans, red onions and diced avocado) and The GD Special (topped with chicken, bacon, feta cheese, strawberries, apples, craisins and walnuts). 
Additional signature salads include You Are What You Beet, Romaine Calm, Hide and Go Greek and Thai One On. 
Dress It Up
When it comes to salad dressing, you get to decide if you are Team On the Side or Team Right on Top. And with 17 salad dressings to choose from (most made in-house), this is where indecisive diners may struggle!
There are many tasty dressings to choose from such as Green Goddess, Blueberry Vinaigrette, Thai Ginger and Cilantro Lime, in addition to more common dressings such as ranch.
Chop Chop
There is one more choice to make as you are asked how you would like your salad chopped. Using a two-handled chopping blade your salad is quickly mixed and chopped to your preference.
Fine, medium, or lightly chopped and your salad is ready for consumption!
Time for a Taste Test
While it was a hard choice with so many delicious options to choose from, I decided on the You're My Boy Blue salad. Piled atop a bed of iceberg and romaine lettuce with marinated steak, crumbled blue cheese, cucumbers, grape tomatoes and fried onions, and just the right amount of balsamic vinaigrette...this salad was a huge hit with me!
And it passed my test for great salads that serve as a meal...plenty of toppings to the very last bite. You will not find wimpy salads where you are left with half a bowl of dry lettuce at Green District Salads!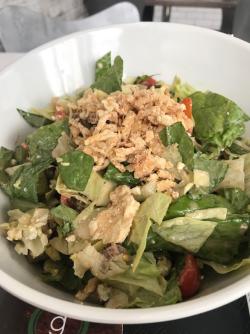 Discounts and Deals
The options continue as customers can choose from dine-in, carry out or delivery. With the Green District Salads app, you can order online and schedule delivery.
Also, by ordering through their app, you bypass the typical fees with DoorDash!
Daily specials provide additional discounts. Some of the current winter discounts include The Forbidden Fruit salad after 5 p.m. on Fridays for just $7.95 or Wednesday's deal that lets you build your own salads/wraps with unlimited toppings for just $8.
Be sure to follow Green District Salads in Plainfield on Facebook to find out all the current deals and discounts.
And don't forget to pick up a loyalty card on your next visit. Buy 10 salads or wraps, and the next one is free!
With so many fabulous salad and wrap options, I know I will have my loyalty card filled in no time as I work my way through the menu at Green District Salads in Plainfield. Maybe this year I will actually keep one of my New Year's resolutions!
Green District Salads, Plainfield
Where: 313 Marketplace Mile, Suite 160 in The Shops at Perry Crossing, Plainfield Call: (317) 995-5051 Website Facebook