Isn't it a lovely thing to see a small business expand and prosper? You've likely seen the bright-colored, shaved ice Frigid Frog truck at events and markets all over the area. But did you know they recently moved to an even larger retail space where you'll find a variety of delicious treats, gifts and the perfect place to hang out year around?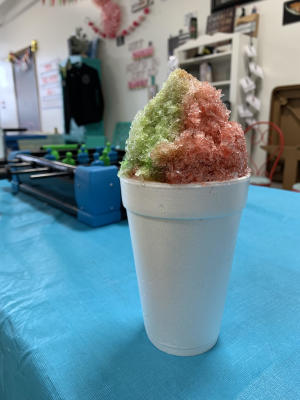 We visited and wrote about their brick and mortar shop a few years back. But an updated feature was long overdue. Here is what you'll find at their new, bigger location at 1702 E. Main St. #101, Plainfield.
Shaved Ice & Ice Cream
Offering more than 50 individual shaved ice flavors and specialty flavor combinations, you'll have a hard time deciding what to order but you won't be disappointed. My kids enjoy creating their own combinations. One prefers sweet tropical flavors, the other two go the sour route. They offer several size options including a reusable cup that changes colors.
While several of the shaved ice combinations on their menu are topped with whipped cream and taste more like a creamy ice cream treat, they went all in and started serving ice cream awhile back. I go with a two scoop -- one coffee, one mocha almond fudge. And it is so good.
The owners and their staff are super friendly, so don't hesitate to ask for recommendations or to chat about popular selections. You'll also want to stop in regularly, as they continue to grow and change up their menu. 
These delicious treats are perfect for a family outing or a sweet date night dessert.
Popcorn & Cotton Candy
Frigid Frog also serves a variety of cotton candy and gourmet popcorn.
Their popcorn comes in classic flavors such as Chicago Mix and Cheddar or sweet, candied flavor such as Cherry. I love classic flavors myself, but bags of the bright, sweet selections make great gifts.
Coffee
While the name might imply something else, the Frigid Frog has branched out into hot offerings, too. They sell bags of Black Rifle Coffee, a company owned and operated by U.S. Veterans.
Frigid Frog carries a selection of their ground coffee, k-cups and bottled coffee drinks. 
Fun & Games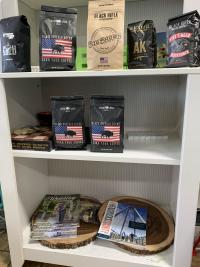 At their original storefront, there always seemed to be a new game or fun activity being added to the sitting area.
When the owners explained to me they were moving to a new location that would allow them to add to their menu, bring in more games and add to their lounge and party spaces, I pictured a few more chairs.
I was wrong.
They have tripled their space and capitalized on every inch. There are foosball tables, air hockey and countless games. Lounge areas with televisions provide the perfect spot for teenagers, groups and families to hang out. Toddlers can waddle about the many playhouses and toys. Couples can chat at the window counter. 
I found folks of all ages in a variety of groups on my visit. I watched as a mom with several kids in tow waited for a friend and her tikes to join them. What a great play date.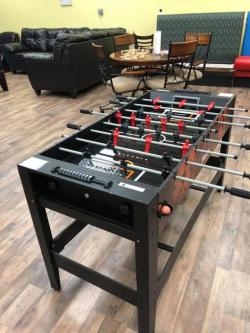 A family with kids of different ages was lounging on the couch in the back room while their little ones explored the different play areas and toys. In the front of the shop, as my son decided what 17 flavors he'd like to experiment with this time, I noticed a couple at a corner table and a dad with a few girls in their soccer gear at another. 
Many places claim to be family-friendly, but the owners of Frigid Frog have really worked to create a place where families would realistically like to spend some time.
Parties & Groups
Frigid Frog can host groups and parties of all kinds. 
They offer a variety of party packages and are always happy to discuss how they can tailor their offerings to the needs of your group. 
Kiddos love birthday parties at Frigid Frog. Not only do they get to enjoy all of the yummy treats, but they get to make them. I'm told all kids can't stop grinning when they get to craft their own fluff of cotton candy. 
Give them a call at (317) 409-2475 to book your next party!
Details
What: Frigid Frog - a family-friendly business serving delicious shaved ice, ice cream, popcorn and more
Where: 1702 E. Main St. #101, Plainfield
Hours: Noon-9 p.m., Sunday - Thursday and noon-10 p.m. Friday and Saturday