I love Chicago. Wait a minute, let me set that straight...I love visiting Chicago. So when we have themed Chicago places open up in town, I am all over it! Such is the case with the new frozen yogurt shop in Plainfield, Red Line Frozen Yogurt. New to town this little yogurt shop is a must visit!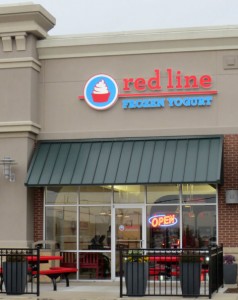 Upon hearing of this little gem from my husband who can spot a sweet shop a mile away, I decided it would make a nice little outing for me and my little yogurt lover. (Red Line is conveniently located off Stafford Road in Plainfield.) Now I had really talked this place up to my 2-year-old but truly there was no need. This place can do all the talking for itself. Red Line, which is connected to Chicago's Pizza, is a perfect homage to Chicago. The Red Line, named after one of the most traveled rail lines in Chicago, places you right inside a subway stop. With bright reds, blacks and whites the store is clean and fresh. Instantly, my eyes were drawn to some fun train decor on the wall where the yogurt can be found. The decor follows with a great display of all of their toppings. It truly just makes you want to do a crank of every different choice. Lastly, they have some great photos of some of the awesome buildings found in Chicago.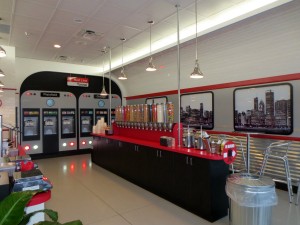 Boasting 22 different flavors of frozen yogurt and over 56 toppings this place will make anyone feel like a kid in a candy store. I looked over at my child and her eyes were about as big as saucers as she began pointing to everything she had to have. Ultimately we settled on some of the holiday flavors. (I'm a sucker for that kind of thing!) We went with a small portion of the Chocolate Mint, Old Fashioned Candy Cane and the Egg Nog. Being the nice mom, I let her choose three toppings...her choices were all gummy related. At just 49 cents an ounce, we got our choices of yogurt for just $2.50, now that's what I call a deal! Tom, co-owner of Red Line Frozen Yogurt, told me the yogurt shop had been in the plans for over a year when it finally became a reality at the Plainfield location in September. He said the idea of the yogurt shop came as a nice tie-in with their already existing Chicago's Pizza. "With the pizza shop based around the city of Chicago, it only made sense for the yogurt shop to have a similar theme," Tom said. He mentioned that the yogurt shop has had much success with its later hours and its proximity to Plainfield High School. "We have been advertising a discount to those who attend a game and bring their ticket in for yogurt afterward," Tom said. The Red Line Frozen Yogurt is the first of its kind but there are plans in the works for it to grow right along with Chicago's Pizza, which is an Indiana-based pizza restaurant.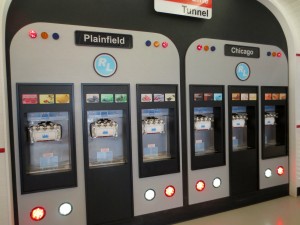 Red Line Frozen Yogurt is a great place to stop for that sweet treat. It really is a fun and inexpensive outing for the whole family. Don't feel like making dinner some night. What about a night out to Chicago's Pizza for dinner with Red Line Yogurt for dessert!? Sounds like a great idea to me! Not only will you be enjoying some great food but you will be supporting a wonderful local, family-owned establishment. It just doesn't get better than that! Give Red Line FROYO a try and let me know your favorite flavor and topping combination. This will help me devise a plan for my next visit! So how did we like our yogurt you ask? Well I'm pretty sure the photo below sums it all up...couldn't even get the girls head out of the cup!