As an art lover (mainly because I lack anything resembling creative talent), I was extremely excited to learn that Danville, Indiana, has a gallery located right on the
Historic Hendricks County Courthouse Square
. The
Gallery on the Square
features a variety of art - including paintings, woodwork, clothing and more.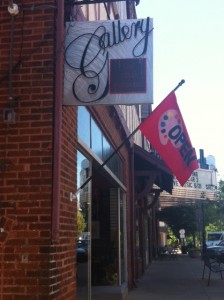 I fell in love with the gallery immediately. Paintings and hand-crafted creations stretched from the high ceiling to the creaky floorboards and the combination of colors and images overwhelmed me from the entrance.  It was stunning. But I quickly learned that this gallery's appeal goes beyond its appearance; it serves an incredibly important role in
Hendricks County
. All this month, the Hendricks County Arts Council, which oversees Gallery on the Square, is marking its third anniversary of being Hendricks County's first co-op gallery and classroom space for fostering art in both the county and the community. Are they celebrating? Of course. An opening reception on June 2 kick started a month-long celebration of the gallery's third year - a celebration which has been cleverly titled, "Squares on the Square." Many co-op artists are displaying special artwork in the shape of squares, and those specific pieces are located in the front section of the gallery. Squares on the Square will feature a large assortment of great and diverse artists. Below are just four artists that stood out as I explored the gallery. Other artists can be found
here
.
Shirley Adams
: This artist places an unexpected treat into the gallery by featuring unique and custom clothing and handbags.
Laura Appleby
: She offers visitors a look into the Indiana landscape with her beautiful oil and pastel paintings.
Alan Poorman
: Square mania? He translated the "Squares on the Square theme" into woodwork - demonstrating a variety of handmade wood gifts all featuring that shape.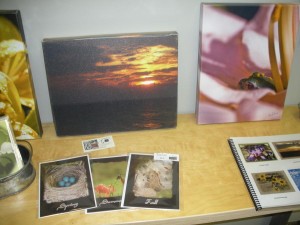 Rose Richard
: Photography can be one of the most interesting forms of art and her nature photography is no exception.
Want to check out everything the gallery has to offer and help celebrate the gallery's third year? Stop by The Gallery on the Square, tucked next to the
Royal Theater
on the east side of the square. You can visit from 10 a.m. to 2 p.m. Tuesdays and Wednesdays and 10 a.m. to 5 p.m. Thursdays-Saturdays. Be there or be –err, round.
Have a favorite artist? Share by leaving a comment below!