I am always looking for reasonably priced activities for my children. Since my daughter is very interested in art, I signed her up for a clay workshop for kids that was held recently at
The Gallery on the Square
in Danville, Ind.
The workshop description said they would be making clay pumpkins, but when we showed up, we found out they were actually making a pumpkin dish that could be used for candy or candles. Jeremy South served as our instructor, and he has 15 years of experience with clay. He owns a small business teaching clay classes at area schools, churches, parks and YMCAs. Jeremy was excellent at explaining what the children had to do and was great about helping where needed, while allowing them to use their creativity. He already prepared a circular base for each of the kids. So, their first task was to make small snake-like tubes to build up the sides of the dish. After they built it up, Jeremy gave them the option of flattening out pieces of clay with a tennis ball to make cutouts of pumpkins to put on the outside, or they could blend the snake-like pieces together to make it into one big pumpkin dish.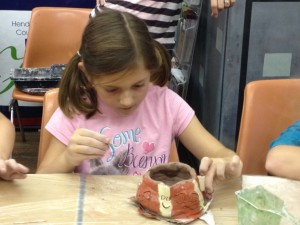 My daughter chose to use the cut-outs, as did a majority of the children, though a few did do a whole pumpkin. After they were finished forming the clay, they could then paint their projects and make eyes and other markings on their clay creations. One mom mentioned to me that she was pleased to find a nice activity for her 6-year-old daughter. Another mom, who also is a Girl Scout leader, talked about having her troop do a clay project with Jeremy to complete a patch. An additional bonus about the class being at the Gallery on the Square was that the moms could shop for local artisan product while the kids were busy creating. After the class, Jeremy said he would take the masterpieces to his studio where he would put them in a 2000-degree kiln. After that is done, they will become shiny and glass-like and ready for pickup by the next class where he will teach the kids how to make a clay turkey.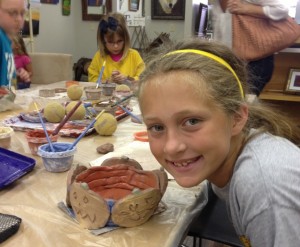 The classes are only $15 and last an hour. The next class featuring clay turkeys will be next week on Oct. 28. He also is planning another workshop on Nov. 18 where kids will make clay ornaments. All of his workshops are 4:30-5:30 p.m. at Gallery on the Square. The rest of his schedule includes:
Feb. 17 - Tile prints
April 21 - Beads and beadmaking
May 19 - Wire Sculpture
He also will host pottery wheel madness in March for both children and adults. For more information about the classes, call Jeremy at (317) 514-8469 or check the
Gallery on the Square's website
.  They also have classes at the Gallery for adults such as Paint and Sip and more. My daughter had a great time and wants to go back for the other workshops!