If you want to find art from nationally-recognized artists, purchase items crafted by local artists or even try your hand at a creative craft, you have to visit the Gallery on the Square, tucked onto the historic Hendricks County Courthouse Square in Danville, Ind. This one-of-a-kind art gallery features unique handcrafted art, paintings, sculptures, jewelry and other items made by local, award-winning artisans.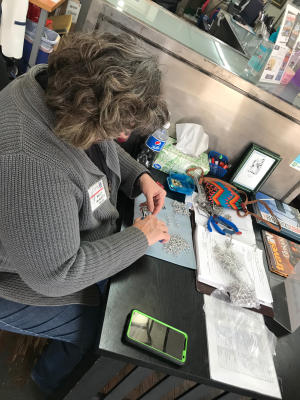 I have moseyed through the shop several times in my years of living in Hendricks County, and it's always different. A lot of the art reflects the values and scenery of Indiana, and ranges in medium from paper, crayons, metal, canvas, cloth and wood.
Meet the Artists
This is the Gallery's 10th year having started as a popular pop-up shop. It's a co-op gallery, meaning there are roughly 20 member artists who help run it and display and sell their work there.
I stopped in recently and met Kelly McNulty, a member artist from Brownsburg, who displays her bullet casing jewelry and ornaments in the store. In fact, the day I visited, she was volunteering and had her work spread out in front of her, painstakingly making pendants for an upcoming show. She filled me in on how the Gallery works, what they feature and what's new.
While many artists have been a staple in the Gallery for years (you can browse them on their website here), several new artists recently have been added to the shop. Ken Roberts from Plainfield does metal sculptures of fish, roosters and other wildlife. Susan Reece features her pottery and fairy garden art in the shop. Bob McLaughlin does lapidary work, a lost art where rough stones are polished and shaped into pieces of jewelry and art displays.
The Gallery also boasts famous artists such as Gary Varvel, the long-time, former editorial cartoonist of the Indianapolis Star. A few of his most famous pieces can be found on display here, including his 9/11 memorial cartoon. Shirley Adams (creator and original host of the Sewing Connection on PBS for more than 20 years), has a space for her sewing creations.
Participate in a Class
If browsing isn't enough for you or if it inspires you, the Gallery also regularly hosts demonstrations and workshops that are open to the public. Current opportunities include a painting class led by Flory Phillips. She leads these once or twice a month in the form of a Paint and Sip class. A sign-up sheet as well as the featured painting for the class sits in the shop, open to whoever wants to participate.  
Marti McCoy used to be a teacher in the Danville school system and now teaches watercolor classes at Gallery on the Square. Her eight-week watercolor session will begin in March and will take place on Saturday mornings.
If you're not ready to sign up for a whole class, plan to pop in on the second Saturday of each month. The Gallery stays open later on these days because they're on the Rural Routes to Main Street Cultural Trail.
The Gallery tries to hold simple make-and-take classes on these days so folks can try their hand at a 15-minute craft they can then take home. Examples of past projects include felt cards, bracelets and earrings.
A small portion in the back of the shop is called Artisans' Corner and features commissioned artists. These artists aren't able to help run the store, but they rent space to display their pieces and also do commissioned work.
Hours & Information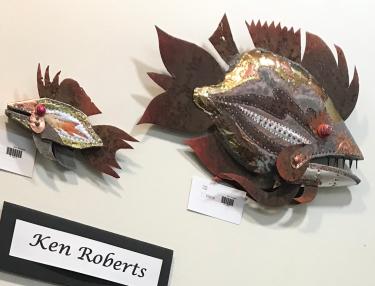 The Gallery has seasonal hours. During the spring, summer and fall, the gallery opens from 10 a.m. to 5 p.m. Monday through Friday and 9 a.m. to 2 p.m. on Saturday. During the winter months, the shop isn't open quite as often with hours that include 10 a.m. to 2 p.m. Wednesday and Thursday; 10 a.m. to 4 p.m. Friday and 10 a.m. to 2 p.m. Saturdays, except for the second Saturday of every month when the gallery is open from 9 a.m. to 4 p.m. The Gallery is always closed on Sundays throughout the year.
The best places to stay up to date on the latest at Gallery on the Square including hours of operation is on their website, which is currently being updated. You can also call the shop for more information. The Gallery also has Facebook and Instagram accounts.
I truly got a taste of Iocal art by not only browsing the Gallery but hanging out with one of its very own artists. You have to come get the personal touch of Indiana's artistic landscape by visiting the Gallery on the Square. Find the perfect gift, take a class or simply get inspired.