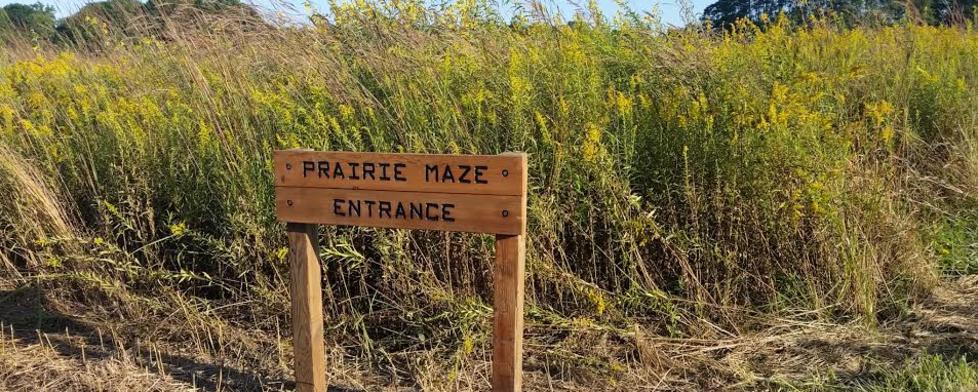 This time of year corn mazes are popping up all over the place, but have you ever tried a prairie maze? I hadn't until this week when I took my family out to McCloud Nature Park, 8518 N. Hughes Road, North Salem, to their prairie maze shaped like a raccoon. It is open dawn to dusk daily through Oct. 31.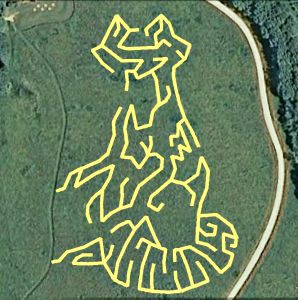 The creation process itself is really impressive! Months ago the design was created and park staff used the latest technology to etch the maze into the natural prairie. Basically, maintenance staff use GPS apps to follow the design as they mow the path. It takes over a week to complete and the finished product is ours to enjoy for FREE.
But that isn't the only thing that makes this maze unique. I loved that it was truly natural. About halfway through, we started making a game of how many butterflies we can count. (I lost track at 24). We also listened to insects, and accidentally spooked some birds. My oldest daughter was really hoping to spot a snake, but I secretly walked loudly to scare them away.
Are you ready to test your navigational skills on the maze? Here are a few tips.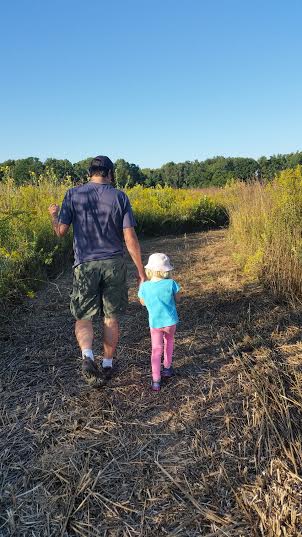 The terrain is kind of rugged. Definitely wear long pants and sturdy shoes. If you have kids, a stroller will not work. The correct path is 1 mile so small kids may need to be held. We found this out the hard way... and my back is paying for it.
If you want a map, you'll need to grab one at the Nature Center. If it is closed, there is a kiosk in front where you can grab one. Feeling adventurous, skip the map but remember you will not be able to see the path over the prairie grass.
Take water with you, even if it is cool out.  The mom in me just needs you to know this. No one is going to get lost without water on my account. 
It is fun to just walk through the maze, listen to the sounds, and check out the prairie flowers.
If you want to add more to the experience, count butterflies. McCloud patrons just tagged a record number of butterflies for the conservation program Monarch Watch.
Research some fun facts about raccoons before you go and toss them out along the way. We also talked about the animals body parts as we went through them like "What do you think the raccoon eats?" while we hiked in his belly, and "What animals do you think he hears?" when going through his ears. My kids loved it!
Let your kid take the lead with a map.
Split up and race through the maze. 
Check out Hendricks County Parks and Recreation programs to enjoy before or after the maze. Most are free and admission to the park is free. Pack a picnic and you'll have a perfect autumn day at one of the most beautiful parks in Hendricks County!