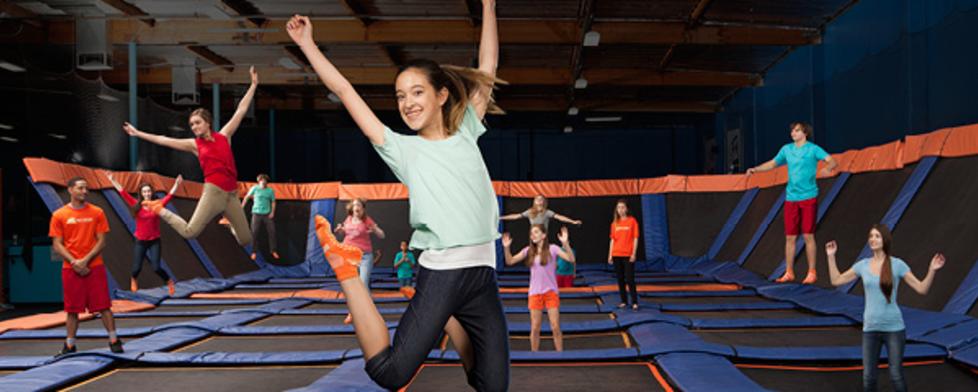 Conveniently located off I-70 and just next door to the Indianapolis International Airport, Plainfield has an abundance of hotel, shopping, dining, recreational opportunities and events for those traveling to Hendricks County. 
My husband and I lived in Plainfield when we first moved to Hendricks County and really enjoyed our time there. Our apartment was in a great location, about a mile from the town's wonderful trail system and quaint downtown, and we loved taking advantage of all the awesome amenities Plainfield has to offer. 
There are so many, in fact, that as I sat down to write this article, I wasn't sure which stores, restaurants, recreational opportunities or events to highlight. 

Here is a list of just some of my favorites in Plainfield.
Shopping
Formerly named the Metropolis Mall, The Shops at Perry Crossing is a fantastic outdoor shopping center in Hendricks County. Some of the mall's anchors include an 18-screen Carmike Theater, J.C. Penney, Dick's Sporting Goods and Barnes & Noble (where I could browse for hours), plus a large selection of clothing and accessory stores and restaurants. Just added to the mall is local shop The Olive Leaf. Looking for a good date night spot? Check out Stone Creek Dining Company. 
I love to support local businesses, so when it came time for me to purchase a new bike, I went to Gear Up Cyclery. The local shop offers fantastic customer service. The worker was very patient with me and listened to my needs to help me find the perfect bike. I ended up with a hybrid bike, but they also have a great selection of road bikes, mountain bikes and accessories. Plus, they host a lot of fun events like ladies night bicycling adventures or bicycle maintenance clinics. 
This store is actually inside the Shops at Perry Crossing, but I love it so much I wanted to pull it out separately. I could eat a whole bag of the Chicago style popcorn from Heidi Pops. But this popcorn paradise has perfected several other flavors that you'll want to try, as well, and the staff is always very friendly. This year I got all my co-workers a bag of Heidi Pops caramel corn for Christmas, and they all loved it. 
My parents love to shop for antiques. So, when they came to visit, the first place we took them was Gilley's Antique Mall. The antique and craft mall features more than 200 dealer spaces in a 350,000-square-foot facility. It's huge! 
We went with some friends to taste wine at Chateau Thomas Winery, and it was a very fun evening. We loved all the wines we tried and also had an opportunity to tour the facility. If you're visiting Plainfield, Chateau Thomas Winery is a must see. The winery also hosts several music events each month during the summer and also has banquet facilities for rent. 
Dining
If you're looking for local food and a good brew, Black Swan Brewpub is an excellent choice. The restaurant offers a dozen in-house craft beers on tap, plus a menu full of unique options. Make sure to get the fries, which are offered with a choice of toppings like my favorite, truffle oil and parmesan, as well as dips like sundried tomato aoili or habanero ketchup. 
My husband and I love the taco pizza from Fox's Pizza Den. If fact, sometimes we crave the taco pizza from Fox's Pizza Den. Plainfield is one of only two locations for this establishment in the Indianapolis area. Of course, they also offer a variety of other options, like the buffalo chicken pizza, bacon cheeseburger pizza, steak rancher pizza, etc. Plus, they also have a selection of sandwiches and breadsticks. You can find it on the corner of U.S. 40 and Saratoga Parkway at 1070 W. Main St. 
My husband and I love going out to breakfast at Flap-Jacks. The pancakes are amazing, and the rest of the food there is delicious as well. Plus, it's affordable. My favorite breakfast is the veggie skillet with over-medium eggs on top and a side of pancakes. I'm getting hungry just thinking about it. Flap-Jacks also has a Brownsburg location. 
If you're looking for great pasta and pizza, Sal's Famous Pizzeria is an excellent local choice. Sal's has two locations in Hendricks County, Plainfield and Brownsburg. The Plainfield location has a wood fire pizza oven. 
Recreation

The Plainfield Parks & Recreation Department maintains several fantastic parks and trails. I especially love biking down the Vandalia Trail (it's really gorgeous in the fall) to the White Lick Trail and then going through Guilford Township's Hummel Park. If you're traveling to Plainfield, Hummel Park is very close to the I-70 and U.S. 267 interchange. The 205-acre park is home to a splash pad in the summertime, as well as a baseball/softball complex, performing arts center, playground structures and more. 
Splash Island Family Water Park is a stellar water park for families. I love floating down the lazy river in an intertube and even sliding down one of the big, winding water slides (I guess I'm a kid at heart). Just thinking about it makes me long for summer! Luckily, for those who love to swim during the winter months, Plainfield Parks & Recreation Department also offers a great indoor waterpark inside the Richard A. Carlucci Recreation & Aquatic Center. 
Do your kids have too much energy to be cooped up inside during these winter months. Take them to Sky Zone, an indoor trampoline park, where they can have fun and burn some energy at the same time. Sky Zone isn't just for kids, though. Adults can go, too. Sky Zone even hosts group or corporate events. 
Plainfield Christian Church offers a free indoor playground to families.  I love the look of this indoor playground, but the best thing is that it's free fun for kids in a safe environment. The Treehouse is open Tuesdays and Thursdays. As soon as my 5 month old is up walking around, we will be visiting this place regularly. 
Events

The annual Quaker Day Festival is a major event in Plainfield. This year, it will be held Sept. 17 on the lawn of the Plainfield Friends Church. There are many vendors and food choices at this event and a car show from noon-4 p.m. 
I love farmers' markets and Plainfield has a great one. Located outside of Plainfield Friends building along U.S. 40, farmers and other vendors sell locally-grown produce, baked goods, crafts, flowers, and more. The Plainfield Farmers' Market is open Wednesdays at 4 p.m. June-September. 

The Friends of the Plainfield-Guilford Township Library host the Plainfield Garden Tour annually. This year, the tour is scheduled for June 18-19. Take this opportunity to stroll through seven beautiful gardens in and around Plainfield. 
Plainfield has an awesome fireworks display every fourth of July at Hummel Park that always includes a performance by the Hendricks Symphonic Society.