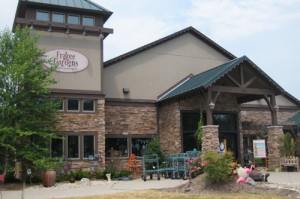 I love taking classes to learn new things, and it's especially fun when I can tie it into a day or evening with a friend. When I found that
Frazee Gardens
in Brownsburg, Indiana, regularly offers classes, I immediately wanted to try it out.
Large variety of classes offered year-round
Frazee Gardens is a locally owned garden, landscaping and gift shop on Ind. 267 south of Brownsburg in
Hendricks County
. They offer a variety of classes and events throughout the year. Past classes have included themed planters with ingredients for homemade salsa or pizza, pressed-flower picture frames, bonsai trees and butterfly habitats. I took a class called "Lavender and Roses," which was a combination of two of their most popular classes. Our teacher, Dottie, said that their classes during the winter months are their busiest, because it offers a great excuse to get out of the house — and get excited for spring.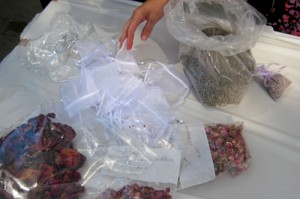 In Lavender and Roses, Dottie shared tips on growing lavender, how to harvest the flowers, where to dry rose petals, and what to look for in a perfect rose hip. After we learned how to cultivate our own raw materials, we sampled cookies and dove into making sachets, lotion, candles, potpourri and soap.
Cost varies by class—great value for the money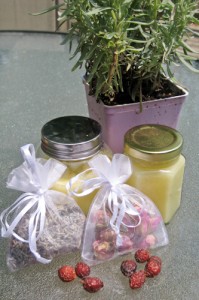 The cost of the class varies by subject matter. For my Lavender and Roses class, I paid $30 — one of the more expensive classes — but in addition to knowledge and ideas, I took home a jar each of lavender- and rose-scented lotion; a lavender-scented candle; a sachet each of dried lavender and rose buds; recipes and instructions for everything; and my own lavender plant to grow at home. I definitely got my money's worth.
Extra tips for your getaway
Plan to arrive early or stay after your class so you can spend time shopping in the gift shop. You'll find garden and home décor, hand-crafted jewelry, art by local artists, Two Cookin' Sisters' jams and jellies made in Indiana, local honey and many more unique gifts. Extend your day together and be sure to grab
lunch or dinner
in nearby Brownsburg or Avon.
Upcoming classes
Classes are held on Tuesday evenings and Saturday afternoons at Frazee Gardens' south store, located at
3840 N. Ind. 267 in Brownsburg
. Each class is offered twice, so you're sure to find one that fits your schedule. Over the next two months, classes include:
Fern Tea Towel, July 10 (6 p.m.) and July 14 (3 p.m.)
Preserving the Bounty, July 17 (6 p.m.) and July 21 (3 p.m.)
Herbal Teas, July 31 (6 p.m.) and Aug. 4 (3 p.m.)
Dish Gardens, Aug. 14 (6 p.m.) and Aug. 18 (3 p.m.)
Garden Prep for Spring, Aug. 28 (6 p.m.) and Sept. 1 (3 p.m.)
Visit Frazee Gardens' website to see the continually updated list of
upcoming classes
.